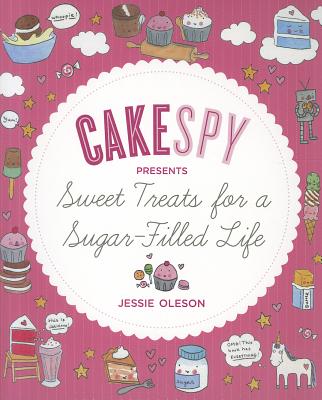 Cakespy Presents Sweet Treats for a Sugar-Filled Life (Paperback)
Sasquatch Books, 9781570617560, 147pp.
Publication Date: August 23, 2011
* Individual store prices may vary.
Description
What could be sweeter than a cupcake-stuffed cupcake? Perhaps a piece of birthday cake French toast? Or a Pop-Tarts ice cream sandwich? Maybe a piece of Magic Cookie Bar Pie? Oh the choices, how sweet they are. In "CakeSpy Presents Recipes for a Sugar-Filled Life, " readers find 60 of "Head Spy" Jessie Oleson's most popular, totally sweet treats, along with stunning photography so you can really appreciate the awesomeness of her desserts. And of course it wouldn't be a CakeSpy book without unicorns, robots, or Cuppie the Cupcake. Jessie's iconic and whimsical illustrations are featured throughout the book. CakeSpy's mission is to seek sweetness (literally) in everyday life, and this little book does just that.
Praise For Cakespy Presents Sweet Treats for a Sugar-Filled Life…
Jessie's recipes inspire sugary-coated adventures in the kitchen. CakeSpy is a treat for the curious and kid at heart.
Bakerella, author of Cake Pops

Don't be fooled by her whimsical illustrations of emotive cupcakes and cake slices—this cookbook is not for the faint of heart. With over-the-top recipes like Glazed Cinnamon Rolls Stuffed with Chocolate Chip Cookie Dough, Birthday Cake French Toast, S'moreos, and Deep-Fried Cupcakes on a Stick, this colorful, humorous, unapologetically excessive book promises insatiably sweet-toothed readers the ultimate sugar high.
Library Journal

In addition to her baking and blogging skills, the founder of Cakespy, Jessie Oleson, is also a talented illustrator, and has created a line of original artworkfeaturing such characters as Cuppie (the cupcake), Toastie, Pie Slice, and Doughnut.
Saveur

Whimsy, sweetness and spice characterize Oleson's illustrations and recipes, and all of these things carry through clearly from her blog to her book.
The Kitchn

The woman behind @cakespy's cute and quirky Twitter commentary is just as sweet as you'd imagine. In fact, her life's mission is to "make the world a sweeter place through art and baked goods.
The official Twitter Blog

CakeSpy provides readers with sinfully delicious baking recipes, sugary tours of Seattle, and tons of her signature illustrations.
Seattle Met

Jessie Oleson's confectionary illustrations are absurdly adorable and sweetly subversive
Seattlest

The table of contents for CakeSpy Presents Sweet Treats for a Sugar-Filled Life reads like a fairly conventional baking-related cookbook...until you look at the actual recipes and realize that they appear to be conceived by someone in only the happiest of sugar-induced states. Which is precisely why you will be taken with this book...In all, it's a trip in and out of an imaginative mixing bowl.
Lisa Yockelson, author of Baking Style

Oh, Jessie Oleson from Cakespy, I do so love your whimsical art. Now, this might seem weird to gluten-free readers. Why in heavens would I recommend a website that glorifies the cupcakes, that sings the praises of bakeries around the world, and brings an overwhelming sense of glee of all that is sweet and baked? Well, you might not want to click on the main website, if you are feeling too down about not eating gluten. (For those of us are who are more hardy, it's difficult not to feel the enthusiasm in the photos and words).
Gluten-Free Girl

Anything touched by the sweet, arch, clever 'Spy' in her humor-mode is bound to bring on a smile -- if not an outright laugh. And now she's written a cookbook to bring some more sugar-filled hilarity to our own home kitchens.
Rebekah Denn, Al Dente 

That Jessie Oleson is a woman of many talents—baker, writer, illustrator, businesswoman—is impressive. That this Seattle resident manages to make a full-time living by harnessing all those talents under an umbrella enterprise called CakeSpy is damned improbable.
Chow

Her work, a blend of charming and fey, is populated by anthropomorphic baked goods, chiefly a cupcake christened 'Cuppie.' She writes regularly about sweets, from delving seriously into the history of apple pie to creating wacky recipes like 'Cupcake-Stuffed Cupcakes' and 'Cadbury Crème Eggs Benedict.'
Seattle Times

Her book is delectable, deeply entertaining fun, and I bet I'm not the only sugar fiend who'll be cooking straight through it, start to finish.
Edible Seattle

The book is generously sprinkled with her charming, whimsical drawings, complete with speech
balloons, funny quips and asides that add another layer of sweet 'n sassy delight.  I don't know
about you, but I love when my cookies, cakes and pies talk to me. And yes, star mascot
Cuppie is up to his usual mischief and will no doubt attract legions of new admirers. Jessie's art
is her distinctive brand — it sets her apart from the legions of other dessert bloggers and truly
makes this cookbook a unique visual treat.
Jama Rattigan, author of Alphabet Soup blog

The recipes are accessible and give bakers options, such as making their own cookie dough or using store bought. Jessie's friendly voice reassures readers as they work their way through the recipes – and you really can't help getting excited about the process while you're baking. As a result, these recipes will work for even the most timid bakers, while providing ideas an inspiration for more experienced cooks. The recipes are as fun as the illustrations and this is one cookbook that will put a smile on your face just by turning the pages.
Baking Bites

The book is beautiful. It's 100% CakeSpy.
Scoopalicious

For most people, a "guilty" pleasure is eating raw cookie dough. For Jessie Oleson, it's cupcakes or cinnamon rolls baked with cookie dough in their centers. Or a "Pookie," an entire apple pie wrapped in cookie dough and baked. Oleson takes your guilty pleasure and raises it a rainbow layer cake.
Voracious



or
Not Currently Available for Direct Purchase