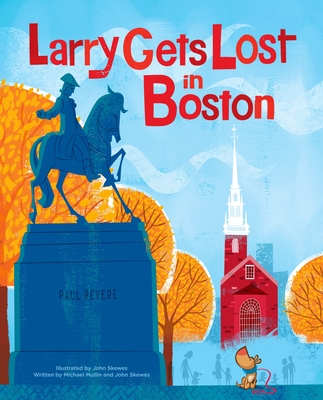 Larry Gets Lost in Boston
Hardcover

* Individual store prices may vary.
Description
Join Larry the pup and his owner Pete as they explore Boston, MA. From Fenway Park's Green Monster to the swan boats in Boston Public Garden, locals and visitors learn about Boston's history and cultural landmarks when Larry gets lost chasing after a tasty treat. As Larry searches the city for Pete, he visits Quincy Market, Freedom Trail, Boston Harbor, and more. With colorful illustrations and facts about each location, the latest addition to the Larry Gets Lost series is sure to delight and educate young readers. Larry makes friends and finds adventures wherever he goes, but where will he find Pete?
Praise For Larry Gets Lost in Boston…
"a fun book to peruse before or after a visit to Boston."
School Library Journal

"Fans of the popular children's series 'Larry Gets Lost' will enjoy this local adventure starring one well-traveled pup and his pal Pete. Through colorful illustrations and simple verse, Larry and Pete visit all of Beantown's tourist destinations, from the Science Museum to the Boston Common and learn a bit about the city's history in the process."
WHERE Boston

"Fun illustrations accompany some great facts about all the sites around Boston."
Wicked Local Norwood
 
"Recognizable landmarks are scattered throughout the book, as well as historic and interesting facts about them. So as you're following Larry and his family, you're also learning about some of the wonderful things that can be seen around Boston, from spots on the Freedom Trail, to Fenway Park, the swan boats, the MBTA and more. As an adult, you will enjoy reading it on a couple of levels; it's a cute story to read to your child, but the two of you will also learn a few things too. And your little one will enjoy the bright, bold graphics and the little cartoon dog seen in each scene looking around at the city and for his owners... This is a cute book for anyone who loves Boston (or thinks they might like to go visit it) and has a little kid who loves to be read a story book." 
MassMoms  
Little Bigfoot, 9781570617935, 32pp.
Publication Date: April 2, 2013
About the Author
John Skewes is a veteran illustrator and character artist living in Seattle. His clients include Disney, Warner Brothers, Mattel, and Fox. He is the author/illustrator and creator of the Larry Gets Lost series. His other books as an illustrator include Pebbles: Daddy's Girl, Tom and Jerry Adventures, and A Chipmunk Christmas.

Michael Mullin lives in LA, but grew up in New England, where all his sports allegiances remain. He is the author of the TaleSpins(TM) books for young adults: The Plight and Plot of Princess Penny and 8: The Previously Untold Story of the Previously Unknown 8th Dwarf.