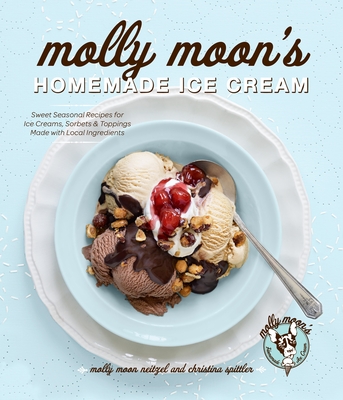 Molly Moon's Homemade Ice Cream
Sweet Seasonal Recipes for Ice Creams, Sorbets, and Toppings Made with Local Ingredients
Hardcover

* Individual store prices may vary.
Description
"The most fabulous ice cream ever. Now the most fabulous book ever. Thanks to Molly Moon, DIY ice cream has never been so yummy."
—425 Magazine

Make your own ice cream! Here are recipes from beloved ice cream shop Molly Moon's to make seasonal, gourmet-quality ice cream using ingredients found at your local market

When Molly Moon Neitzel opened the first of her five boutique ice cream scoop shops in the spring of 2008, it was an instant hit with the folks of Seattle. Customers have been happily lining up for a cone or signature sundae ever since, with major publications like Bon Appétit and Travel + Leisure hailing Molly Moon's Ice Cream shops as some of the best in the United States. And now, you can make Molly's delicious ice creams, sorbets, and toppings at home!
 
Arranged in the book by season—with the focus on using local, fresh fruit and herbs in combinations that are both familiar and surprising—you will find recipes for most flavors imaginable and even those a little unimaginable.

A sampling of these lip-smacking ice-cream treats includes:

• Honey Lavender Ice Cream
• Rhubarb Rose Compote
• Raspberry Mint Sorbet
• Watermelon Sorbet
• Crispy Nut Cobbler-Top Crumble
• Cinnamon Ice Cream
• Maple Walnut Ice Cream
• Mexican Chocolate Ice Cream
• Chocolate Coconut Milk Ice Cream
• Salted Caramel Ice Cream
• Cardamom Ice Cream
• Cappucino Ice Cream
• Vanilla Bean Ice Cream
and more!
Praise For Molly Moon's Homemade Ice Cream: Sweet Seasonal Recipes for Ice Creams, Sorbets, and Toppings Made with Local Ingredients…
Blackberry Sage Ice Cream? Salted Caramel Ice Cream? Cucumber Mint Sorbet? Welcome to the flavors of this cookbook from the Seattle ice cream parlor owned by Nietzel and where Spittler is head chef. Together, they want to show everyone how easy and fun it is to make tasty gourmet ice cream at home—and they deliver... Beginners will appreciate the simplicity of these recipes while aficionados will be intrigued by the new flavors to try.
Library Journal

The most fabulous ice cream ever. Now the most fabulous book ever. Thanks to Molly Moon, DIY ice cream has never been so yummy.
425 Magazine

Local ice cream maven Molly Moon Neitzel and pastry chef Christina Spittler take a typically summertime treat into winter, spring and fall with this invitingly illustrated guide revealing secrets from Moon's famous sweet shop. From honey lavender to maple bacon and the always appropriate chocolate and vanilla varieties, the book offers recipes fit for the most discerning cones, plus a few tips on ice cream cakes, sandwiches and shakes.
Seattle Magazine

If ice cream had a fan club, I'd probably be the president. That's why books about ice cream make me salivate like a dog at a bone store. Seattle-based Molly Moon just launched a new drool-worthy book, Molly Moon's Homemade Ice Cream. And, I love how the book is organized by seasons—like Mexican Chocolate ice cream and Blood Orange sort for winter, Blueberry Frozen Yogurt for spring, and Pumpkin Clove ice cream for fall. No matter the season, the book encourages using fresh, local ingredients and experimenting with really fun flavor combinations. Don't these photos make you want to dive right in?
Oh Joy! 

Nietzel's book captures the stores' fresh, shop-around-the-corner aesthetic and their focus on simple recipes that showcase quality ingredients. ...The images speak to an underlying commitment to sustainability, to buying local and organic. But at the heart is just good ice cream. The recipes are organized by season. Strawberry-rhubarb and baby-beet sorbets trumpet spring, while in winter, Mexican hot chocolate ice cream or mulled-wine sorbet sound as comforting as a cozy fireside. The flavors sing. In part, that's because the ice cream is Philadelphia-style, made without the egg yolks that add richness but can also mask subtler flavors. For the home cook, Philadelphia-style also means fewer steps – no stirring a custard base over the stove. The recipes are clear and accessible, most featuring only four or five ingredients. The results are simple and pure. ...this book will make you see ice cream differently.
Los Altos Town Crier

In her new book, "Molly Moon's Homemade Ice Cream," Neitzel and her co- author and co-worker Christina Spittler share home versions of the shop's recipes, from ice cream flavors to awesome additions like butterscotch sauce and vanilla bean caramel and candied bacon.
Neitzel (who worked a college job making ice cream in Montana) also shares some of her favorite places to source ingredients, advice on ice cream success at home, and some of her business philosophy.
The Seattle Times 
Sasquatch Books, 9781570618109, 144pp.
Publication Date: April 13, 2012
About the Author
Molly Moon Neitzel is an expert ice cream eater turned enthusiastic ice cream maker. After a career in the political and music industries, Neitzel gave in to her ice cream obsession in the spring of 2008, opening her first Molly Moon's Homemade Ice Cream shop—a great neighborhood hangout where people could congregate and celebrate their favorite dessert. Neitzel's five Seattle-area scoop shops and signature Molly Moon's blue ice cream truck have been hailed as one of the best in the United States by Bon Appétit, Sunset, Food & Wine, and Travel + Leisure magazines. Neitzel lives in Seattle with her lovable Frenchton pup, Parker Posey (featured in the company logo), and her even more lovable husband, Zack.

Following an environmental studies degree at the University of Washington, Christina Spittler dove in to studying pastry at the Seattle Culinary Academy. Based in Seattle, she is head chef at Molly Moon's Homemade Ice Cream.
or
Not Currently Available for Direct Purchase