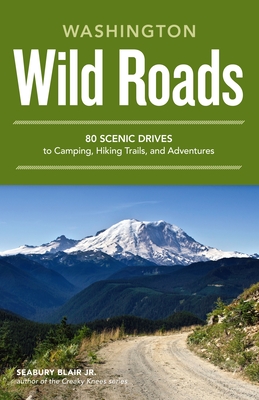 Washington Wild Roads: 80 Scenic Drives to Camping, Hiking Trails, and Adventures (Paperback)
80 Scenic Drives to Camping, Hiking Trails, and Adventures
Sasquatch Books, 9781570618154, 251pp.
Publication Date: June 12, 2012
Description
This choose-your-own-adventure guidebook is the first of its kind to take take the easy hike offroading--and up forest roads into the lush landscape of Washington State. Most forest roads in Washington climb almost as high as some of the trails, providing vistas almost as good as those reached by foot. Featuring 75 roads throughout the state, the author outlines hikes off of each route, whether you want to start by foot at the bottom or closer to the peak. Some of these roads are paved and designated Forest Highways, while others are rough, single-lane routes where wildlife and scenery outnumber vehicles.
About the Author
Seabury Blair, Jr. is the former outdoor columnist for the "Bremerton Sun" newspaper. Blair is also a hardcore backcountry skier and hiker. He created the "R&R" section for the "Sun" several years ago, a prototype for most of the outdoor-travel sections you now find in all Puget Sound papers. One of his most popular regular features was the Hike O' the Month, and he has contributed to the website for Go West. He is the author of "The Creaky Knees Guide Washington, The Creaky Knees Guide Oregon," and two guides in the Day Hike! series: Olympic Peninsula and Columbia Gorge. He lives in Spokane, Washington, with his wife and mapmaker, Marlene. The author lives in Spokane, Washington.
Praise For Washington Wild Roads: 80 Scenic Drives to Camping, Hiking Trails, and Adventures…
Detailed drives with ratings, distance and maps to the prettiest places in the state, from the best views of mountains and lakes to flower-filled meadows and sagebrush prairies.
The Seattle Times
Advertisement