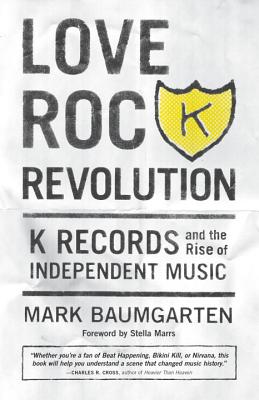 Love Rock Revolution (Paperback)
K Records and the Rise of Independent Music
Sasquatch Books, 9781570618222, 288pp.
Publication Date: July 10, 2012
* Individual store prices may vary.
Description
Punk isn't a sound--it's an idea! In its history, K Records has fostered some of independent music's greatest artists, including Bikini Kill, Beat Happening, Built to Spill, Beck, Modest Mouse, and the Gossip. In 1982, K Records released its first cassette and put its own spin on punk's defiant manifesto: You don't need anyone's permission to make music. Thirty years later, the label continues to operate in the underground while rightfully claiming a role as one of the most transformative engines of modern independent music. It has also galvanized the international pop underground, helped create the grunge scene that took over pop culture, and provided a launching pad for the riot grrrl movement that changed the role of women in music forever. Love Rock Revolution tells the story of how it all happened, recounting the early journeys of K Records founder Calvin Johnson from the punk mecca of London to the hardcore clubs of Washington, D.C., in the late-'70s, the creation of K Records in the '80s, the label's role in revolutionizing independent music in the '90s, and its struggle to survive that revolution with its integrity intact.
About the Author
Mark Baumgarten is a Seattle-based music writer. He serves as Editor at Large for City Arts magazine, and his work has been featured in Willamette Week, The Village Voice, Seattle Weekly, and Lost Cause magazine.
Praise For Love Rock Revolution: K Records and the Rise of Independent Music…
"No novelist, short of Ayn Rand, could come up with a character as iconoclastic and idealist as Calvin Johnson, which is one reason Love Rock Revolution is a compelling book. Mark Baumgarten methodically details every nuance of K Records, and in doing so has written the best book yet on the Olympia, Washington scene. Whether you're a fan of Beat Happening, Bikini Kill, or Nirvana, this book will help you understand a scene that changed music history."
Charles R. Cross, author of Heavier Than Heaven

"In his new book Love Rock Revolution: K Records and the Rise of Independent Music, Mark Baumgarten explores the independent music scene of the mid eighties to the present through the story of Calvin Johnson's seminal record label. And although he's only looking a few decades back, it was a different world. To find music that wasn't on the radio, you had to search — without Google. You had to go to shows, get mix tapes from cousins, or ask record store employees for "underground" bands. But once you did, there was a whole world to explore. It was the heyday of zines and newsletters, when independent bands toured in vans across the country, blazing trails down the still-new interstate system, winning new fans over one small town at a time."
Think Out Loud, Oregon Public Broadcasting

"Baumgarten is not just a great writer and astute music critic; he is an impeccable storyteller, and exhibits this skill in this selection from his book. Love Rock Revolution will undoubtedly be a treasure for K Records fans and music lovers in general."
Pop Press International

"It's a fascinating and thoroughly-researched book that should interest anyone curious about independent music, the Northwest, or the growth of a community or scene."
Another Rainy Saturday

"It could all be called 'punk,' but in a sense that referred to a feeling and an ethos, not a particular sound. Love Rock Revolution reflects that feeling by describing not only the music itself, but the economies of culture, resources, and personality that made it possible. Similar economies inform recent manifestations of DIY culture in niches all over the world, and this makes the book's subject larger and more important than the story of a single independent record label — even though that story, skillfully and entertainingly told, is its major focus... Baumgarten does not pretend to be exhaustive, but his clear enthusiasm for the K millieu is contagious, making newcomers feel as though they could have been in on the scene themselves."
Los Angeles Review of Books

"Baumgarten's history lessons are conversational and well-written, and he obviously has a deep love for his subject. Amid accounts of who's who, there are small revelations, like just how bizarre K Records' back catalog is: The fervent hard rock of Karp alongside the sugar-spun Softies, and Built to Spill's deft guitar epics bookended with Beat Happening's near musical incompetence. Erratic and varied, it's very much a list that represents K Records' open-door policy, where record deals are made with a handshake. Even if Love Rock Revolution doesn't lob hardballs at Johnson's psyche, it's a nourishing chunk of facts, stories, and memories of long teenage days spent listening to K Records mixtapes."
The Portland Mercury

"Baumgarten manages to pull off a rather balanced and historically important label biography through the format of an oral history -- no easy feat."
Bookslut 
or
Not Currently Available for Direct Purchase