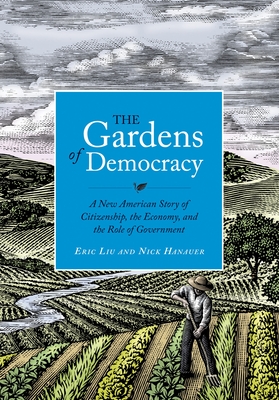 The Gardens of Democracy
A New American Story of Citizenship, the Economy, and the Role of Government
Hardcover

* Individual store prices may vary.
Description
One of Canadian Prime Minister Justin Trudeau's "10 Books Everyone Should Read"

This fascinating study of democracy in the 21st century is a much-needed call for citizens to reach across the aisle and put power back into the hands of individuals—not Big Government

Eric Liu and Nick Hanauer outline a simple but revolutionary argument for why our most basic assumptions about democracy need updating for the 21st century. They offer a roadmap for those looking for a way forward from an American life marked by divisive conversations. 

In a world with widespread political upheaval, a deep wellspring of civic engagement and collective action is emerging. America is finding that our cultural and political dialogue is spiking over everything from racial and social justice to fighting the ever-widening income gap, to climate change—even how we might best collaborate as active citizens to heal our democracy. 

Timely, inspiring, and highly charged, The Gardens of Democracy is a much-needed call to action for citizens to embrace their roles in a democratic society. To model positivity and good citizenship, plus ensure liberty and justice for all, we must achieve compromise by reaching across the aisle and putting the power to execute programs back in the hands of individuals, not big government. 

We must redefine how we view prosperity in order to move from a dog-eat-dog mentality that perpetuates the top 1% to a communal and inclusive movement that illustrates that we're all better off when we're all better off.
Praise For The Gardens of Democracy: A New American Story of Citizenship, the Economy, and the Role of Government…
"Liu and Hanauer have proposed a powerful new way to think about how society works and there is a lot here for conservatives to work with and debate."
—Noah Kristula-Green, The Daily Beast

"The Gardens of Democracy provides a refreshing new conceptual approach to understanding our economic and political situation, and it will help us move past the fossilized ideas in today's public debates."
—Francis Fukuyama, author of The Origins of Political Order

"Society is a garden. Liu and Hanauer's simple metaphor makes the complexities and limits of social policy emerge before your eyes. Statists can't see the interconnections of organic systems. Free marketers can't see that a garden needs some tending. If you're looking for a way forward out of America's dangerous gridlock, read this wonderful book."
—Jonathan Haidt, Professor of Psychology, University of Virginia and author of The Righteous Mind

"Eric Liu and Nick Hanauer are progressives who always think outside the box, and that's why everyone should pay attention to them. The Gardens of Democracy shakes up our stale debate over government's role in a dynamic society, and in a thoughtful, creative and inventive way. Everyone will find something to disagree with here, and that's the point: getting us out of our comfort zones is an immensely useful democratic undertaking."
—E.J. Dionne Jr., author of Why Americans Hate Politics

"I highly recommend [The Gardens of Democracy] as a big gust of fresh air to clear out the dense, stale, gases we have all been breathing when it comes to how we talk about politics and citizenship. It is time to break out of the prison of left/right thinking that has made politics so mean spirited in recent years . . . There is something in this new metaphor for both the left and the right."
—Ray Smock, Robert C. Byrd Center for Legislative Studies
Sasquatch Books, 9781570618239, 192pp.
Publication Date: November 8, 2011
About the Author
ERIC LIU is the founder and CEO of Citizen University and executive director of the Aspen Institute Citizenship and American Identity Program. He is the author of several books, including You're More Powerful than You Think: A Citizen's Guide to Making Change Happen, The True Patriot, and A Chinaman's Chance. Eric served as a White House speechwriter and policy adviser for President Bill Clinton. He is a regular columnist for CNN.com and a correspondent for TheAtlantic.com.
 
NICK HANAUER is a Seattle-based serial entrepreneur, venture capitalist, author and activist with a knack for identifying and building transformative business models. In 2007, he co-authored The True Patriot with Eric Liu and co-founded The True Patriot Network, a non-partisan group committed to furthering patriotic ideals. He also co-founded the Washington State League of Education Voters (LEV), a non-partisan statewide political organization focused on promoting public education, where he serves as co-president.
or
Not Currently Available for Direct Purchase