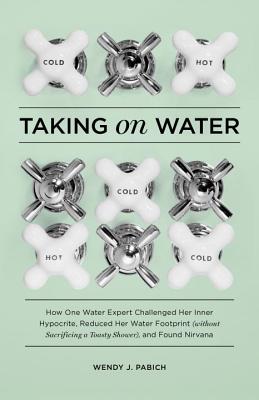 Taking on Water: How One Water Expert Challenged Her Inner Hypocrite, Reduced Her Water Footprint (Without Sacrificing a Toasty Shower) (Hardcover)
How One Water Expert Challenged Her Inner Hypocrite, Reduced Her Water Footprint (Without Sacrificing a Toasty Shower)
Sasquatch Books, 9781570618314, 245pp.
Publication Date: September 18, 2012
* Individual store prices may vary.
or
Not Currently Available for Direct Purchase
Description
When Wendy Pabich received a monthly water bill for 30,000 gallons (for a household of two people and one dog), she was chagrined. After all, she is an expert on sustainable water use. So she set out to make a change. Taking on Water is the story of the author's personal quest to extract and implement, from a dizzying soup of data and analysis, day-to-day solutions to reduce water use in her life. She sets out to examine the water footprint of the products she consumes, process her own wastewater onsite, revamp the water and energy systems in her home, and make appropriate choices in order to swim the swim. Part memoir, part investigation, part solution manual, the book is filled with ruminations on philosophy, science, facts, figures, and personal behavioral insights; metrics, both serious and humorous, to track progress; and guidelines for the general public for making small (or perhaps monumental) but important changes in their own lives. Told with humor and grace, Taking on Water offers a raw account of how deep we need to dig to change our wasteful ways.
About the Author
Wendy J. Pabich (pronounced PA-bick) is an environmental scientist, educator, adventurer, and artist obsessed with all things water (www.waterdeva.com). As the founder and president of Water Futures, Inc. (www.waterfuturesinc.com), Wendy finds innovative solutions to one of the planet's most pressing problems--the quest for sustainable water. Her passion for mountains, outdoor adventure, and other cultures takes her to places near and far, including Alaska, Patagonia, and the Himalayas, where she explores on skis, on foot, and by water. She has taught for MIT and the Sierra Institute, and she holds a PhD in Environmental Engineering from the Parsons Water Resources Laboratory at MIT, an MS in Urban Studies and Planning from MIT, an MS in Geology (coastal) from Duke University, and a BA in Geography from Dartmouth College. She lives in Hailey, ID.
Praise For Taking on Water: How One Water Expert Challenged Her Inner Hypocrite, Reduced Her Water Footprint (Without Sacrificing a Toasty Shower)…
"Wendy Pabich artfully blends deep research and core science with her own personal journey poured through the insightful eyes and passionate voice of a devoted ecologist. This account will cause you both to pause and reflect as well as itch to turn the page and read on."
John Replogle, CEO of Seventh Generation

"Wendy Pabich's title is exactly what the world should be doing right now: Taking on Water. Water is the most pressing issue facing the world today. To understand why, read this book. You'll learn not only about water, you'll learn about yourself."
Thomas Kostigen, author of The Green Blue Book and You Are Here

"The drink meets the lips in this informed, funny, and insightful tale of two adults and a dog shrinking their water footprint. Read this book. It's the opposite of dry."
Alan Durning, director, Sightline Institute

"The results of [Pabich's] experiment are both gratifying and alarming. She and her husband did cut their water use in half, but that took them only to the level that residents of places like Japan or Poland routinely achieve. Perhaps, she and others write, people would think more about water if it were priced differently. Cheap water may reflect a widespread view that access to clean water is a natural right that everyone, rich or poor, should enjoy."
The New York Times

"Pabich, who holds a PhD in environmental engineering, presents a passionately personal account of fulfilling her dreams as a WaterKeeper that contains quantitative data and scholarly insights without being the least bit off-putting. Pabich's chagrin at her monthly water bill tallying 30,000 gallons for two people jolted her in ways that many readers will relate to. Her self-image as a water deva (spirit), author, teacher, and public champion of sustainable water use compromised, she designed what she calls the Water Deva Challenge. Reducing her water footprint meant making small changes in her life in a high-alpine-desert locale, from enjoying her homemade solar shower despite having to disrobe in a backyard with a less-than-solid fence to developing a system for the judicious harvesting, collecting, storing, and distributing of rainwater while contriving arid landscaping alternatives to 'our deeply embedded cultural attachment to the lawn.' Pabich winningly works DIY information into her humorous memoir."
Booklist

"Taking on Water is an entertaining and insightful book that chronicles the trials and tribulations of a self-proclaimed 'water deva' as she strives for more knowledge about her own water usage and initiates conservation measures at home... Anyone who has looked into or consciously adopted a more sustainable lifestyle will appreciate Wendy's quest for knowledge. While it is true that almost all of us can live more sustainably without making major sacrifices in comfort, learning to do so can be a daunting task. Choices aren't always straightforward and information isn't always readily available. It seems that our consumer-oriented society is ill equipped to help us decide between competing alternatives."
HarvestH2O.com

"'Taking on Water' is a chatty and inspirational weave of science, detective work and how-to instructions. You'll have the potential to claim big savings if you follow Pabich's guidance - it's worth the price of the book."
Barbara Lloyd McMichael, The Bookmonger

"Water conservation is important to many people and they want to do something about it, but it seems so big and overwhelming that they don't know what to do. Wendy used her vast amount of water knowledge to change her daily household habits, and then wrote a book explaining how she did it and providing a template for what we all might do. Additionally, I think she does a great job of weaving important water facts into her storytelling, making it really readable."
Marie Kellner, Idaho Conservation League 

"Books like Wendy's make you think about what you can do."
Dayna Gross, Silver Creek Watershed manager for The Nature Conservancy 

"Far from a dry treatise, it spills over with personality."
Times-News

"In Taking on Water, Pabich hilariously and painstakingly calculates her water footprint, determining just how much water she uses doing everything. From eating a pizza (mozzarella contributes 235 gallons of water per pizza) to how much electricity she consumes. I could go on, but why write what the author has already and in better words than I? I encourage you to pick up a local copy (to reduce the water footprint of having it shipped) so you can read for yourself the enlightening story of how we use water and the steps we can take to conserve it."
Books for Better Living

"[Wendy Pabich's] book, Taking on Water, is about Pabich's own journey to implement day-to-day water-saving strategies and to monitor her own water use. The result is a roadmap and personal memoir that could spur people looking to do the same."
Boise Weekly

"Taking on Water' is part memoir, part scientific investigation of all the ways people use water that they might not even be aware of, and part guidebook to water conservation—a little bit of everything you wanted to know about water told through a personal account... Clearly a well-trained scientist, Pabich dug up facts and figures and studies on every aspect of one's water footprint—which runs the gamut from direct household and yard consumption to how much water it takes to make food and clothing, dispose of waste, and use electricity."
The Aspen Business Journal

"In her book Taking on Water, Wendy Pabich explains the "diamond-water paradox": "Although water is more useful than diamonds—in fact, it is essential to life—diamonds command a significantly higher price in the market." ... Pabich reinforces that it's our aggregate individual impact that's the real problem. Remaking our food system, fighting harmful sources of energy (it is called hydrofracking, after all), calling for corporate accountability—these are all battles worth fighting for water's sake, too."
Grist.org
Advertisement