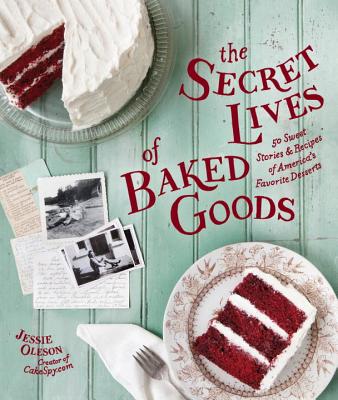 The Secret Lives of Baked Goods (Hardcover)
Sweet Stories & Recipes for America's Favorite Desserts
Sasquatch Books, 9781570618536, 192pp.
Publication Date: May 7, 2013
* Individual store prices may vary.
Description
Have you ever wondered where the ideas for baking red velvet cupcakes, brownies, birthday cake, Girl Scout cookies, and other dessert recipes came from? Discover the history behind America's most popular and nostalgic desserts with popular CakeSpy blogger and self-proclaimed "dessert detective" Jessie Oleson Moore. Moore has put her sweet-sleuthing skills to work uncovering the fascinating histories and tastiest recipes for America's favorite sweets, including whoopee pies, chocolate chip cookies, Baked Alaska, and New York cheesecake. From romantic musings on how desserts got their names to sugar-fueled scandals, these classic recipes and photographs are guaranteed to offer food for thought and leave you with plenty of room for dessert.
About the Author
Jessie Oleson is the founder of the uber-popular blog, CakeSpy.com, which bills itself as a Dessert Detective Agency dedicated to seeking sweetness (literally) in everyday life. An accomplished cake anthropologist, she documents bakery finds around the United States, conducts baking experiments, posts recipes, picks the brains of bakers and food artists in interviews, and generally explores the lure and lore of baked goods on her site. Oleson is a freelance writer and illustrator whose writing has appeared on DailyCandy.com, and she has a weekly column on Serious Eats. She has illustrated for various companies, including Microsoft, iPop, All-Mighty, Taylored Expressions, and is a regular contributor to Taste of Home. She is also the founder of CakeSpy Shop, a Seattle art boutique primarily featuring her greeting cards and artwork; she currently divides her time between the East and West coasts, and eats sweetly everywhere in-between. The author lives in Seattle, WA.
Praise For The Secret Lives of Baked Goods: Sweet Stories & Recipes for America's Favorite Desserts…
"This delightful collection from Moore (Cakespy Presents Sweet Treats for a Sugar-Filled Life) revivifies 40 dessert classics by sharing tales—some true, others fabulous—about them. ...'No ifs, ands, or bundts,' the result is a winning combination that's as informative as it is practical, making this a terrific choice for would-be bakers as well as food obsessives."
Publishers Weekly (STARRED REVIEW)

"I've always considered carrot cake a sort of health food. It's so comforting to know that a version of carrot cake has been hopping around the globe since medieval times. This book is full of heart, history, and classic recipes. Jessie has found a way to thoughtfully infuse whimsy stories with cakes and pie. Secret Lives of Baked Goods has found permanent home on my kitchen bookshelf."
Joy the Baker

"This gem of a book kept me smiling the entire way through with historical quips, urban legends and little-known facts of your favorite sweets! Jessie's delightful storytelling gives fantastical life to her tried and true recipes."
Jaden Hair, Steamy Kitchen

"This is the kind of book I want curl up on the couch with and read all afternoon. The histories of these familiar and much-loved desserts are fascinating. ... I just love this stuff! The recipes themselves are classically classic. Jessie Oleson Moore has done her research and tested each of these recipes to perfection. They're not the 'original' recipes (because, as Moore would be quick to point out, what is really original anyways?) — rather, these recipes are the best version of what they've evolved to be. The kind of chocolate chip cookies that we crave after a long day. The kind of carrot cake we want to serve on Mother's Day. The kind of apple pie that tastes like home."
The Kitchn

"If you're looking for a gifty little book to present to a baker, you'd be hard pressed to find anything more adorable than 'The Secret Lives of Baked Goods,' by CakeSpy blogger Jessie Oleson Moore. It's got historical, whimsical essays on iconic confections, from the New York cheesecake to the Neiman Marcus cookie. 
The Boston Globe

"For me, this book is perfection. It delves into the histories of our favorite treats, explaining how they were created and how they became popular... The Secret Lives of Baked Goods is the ideal book for any baking aficionado. It has entertaining and interesting stories, beautiful pictures, and great recipes. What's not to love?"
San Francisco/Sacramento Book Review

"...it's fascinating to read the history of these recipes that I grew up with and Jessie Oleson Moore did a wonderful job not only writing about each of them but developing easy-to-make recipes to go along with the stories. It's the sort of book you can read in your bed or couch as well as bring into the kitchen."
Eat the Love

"Jessie Oleson Moore—she of the adorable anthropomorphized cupcake art at the CakeSpy blog and online store—has written a totally sweet history book. It's also a cookbook, and you'll find good recipes right alongside short biographies of desserts like Boston Cream Pie, Joe Froggers and Tunnel of Fudge Cake... The photos, by Clare Barboza, are absolutely delectable, and very few of the projects included are any more complex than that good ol' American apple pie..."
Edible Seattle

"Moore provides readers with recipes that are 'respectful to the original,' but still easy to make using modern equipment and ingredients. History and sweet treats combined with mouthwatering photographs make Moore's book a delight to read and use."
Shelf Awareness

"Weaving the stories behind classic sweets into more than 40 recipes, CakeSpy.com 'dessert detective' Jessie Oleson Moore sleuths her way through dessert lore. In addition to the backstories of Boston cream pie and baked Alaska, this history book–meets–cookbook includes mouthwatering photos to boot."
Seattle Weekly

"This author/blogger has recipes for many of your favorite desserts, including Red Velvet Cake, Tunnel of Fudge Cake, Princess Cake, Toaster-Style Pastries – 40 in all – then she goes further and brings you a bit of history as well. The fact that she discusses the classic boiled-milk frosting that many believe to be the true Red Velvet accompaniment made me love her immediately. Did you know that Pennsylvania and Maine both lay claim to the origins of the Whoopie Pie? Or that Lemon Meringue Pie might owe its origin to a woman named Elizabeth Coane Goodfellow who had a cooking school in Philadelphia in the early 1800s?  Tons of entertaining reading here; this book will be found equally at my bedside and in the kitchen."
Bakepedia 

"Writer, illustrator, and cakespy.com blogger Jessie Oleson Moore has a passion for sweets that goes beyond piping the perfect swirl of frosting or zeroing in on the best texture for an oatmeal chocolate-chip cookie. A history buff of the baking order, Oleson Moore delves into and shares the origins of 41 desserts, from traditional (birthday cake) to obscure (hermits) to faddish (Baked Alaska) to head-turning (Katharine Hepburn's Brownies). The Santa Fe resident's book is handsome: a sturdy hardcover of modest size with numerous photos of desserts presented in evocative, shabby-chic tableaux. This is a great gift for those with a sweet tooth or a yen for baking. If they're not currently interested in the history of baked goods, this will likely give them a taste for it."
New Mexico Magazine

"Feed your sweet tooth and a curiosity over the history of favorite treats."
Wasabi Prime

"If you've ever wondered where a recipe came from — how someone thought to put ingredient X with ingredient Y and why — 'The Secret Lives of Baked Goods: Sweet Stories and Recipes for America's Favorite Desserts' is the book for you. Author and self-proclaimed dessert detective Jessie Oleson Moore has the story behind our favorite desserts in her second book. While her anecdotes seem well-researched and authoritative, they are also served with a heaping scoop of humor.... If you like a good story and a nice slice of cake to go with it, check out 'Secret Lives.' It will leave a smile on your face."  
The Republic-Monitor

"The Secret Lives of Baked Goods: Sweet Stories & Recipes for America's Favorite Desserts looks at the stories behind some famous and not so famous desserts. It's interesting to learn the origins of the desserts, as if you are anything like me you like a good story to go along with the recipe. This book is all that and more."
Culinary Concoctions by Peabody

"Have no fear that Secret Lives is a textbook-y type tome specially seasoned to please the rarefied palates of diehard food historians. The operative words here are celebration and storytelling, infused with Jessie's trademark whimsy and humor. Secret Lives is eminently readable, fascinating and entertaining throughout with its accents of social and cultural history. Who wouldn't smile at this?"
Jama's Alphabet Soup

"Once you've baked, you'll definitely start to share the stories and facts from the book with friends and family, making the baked goods even more exciting to everyone who eats them."
Baking Bites

"I love a good cookbook especially a beautifully designed one (do you see that gorgeous hand lettering?) filled with delicious dessert recipes. The Secret Lives of Baked Goods: Sweet Stories & Recipes for America's Favorite Desserts, by Jessie Oleson Moore is just that – one part recipe, one part beautiful design & photography, and one part history."
The Atelier

"Ever wonder why we put candles on a birthday cake or the difference between a blondie and a brownie? Maybe there are answers to something you didn't even know to ask like why is the pecan pie more American then the traditional apple pie? Not only is this book a wealth of information, but it also includes a recipe for each baked good discussed, so you can see what all the fuss is about. The Secret Lives of Baked Goods is a very thoughtful and in depth look at the baked goods that everyone knows and loves and maybe even a few you didn't know about."
United Cakedom

"While not a history textbook, The Secret Lives of Baked Goods is full of surprising facts and intriguing details behind everything from Baked Alaska to Whoopie Pies."
Jameson Fink, Wine without Worry

"In a feat of ethno-baking, this second cookbook for CakeSpy's self-professed 'dessert detective' brings us over 40 sweet recipes and their backstories. Did you know that the Hermit were the most popular cookie during the Gold Rush? Or that Queen Elizabeth I was the first champion behind gingerbread men? Random confectionary factoids precede recipes for everything from classic cookies and pies to rare and curiously named desserts."
Seattle Metropolitan 
or
Not Currently Available for Direct Purchase