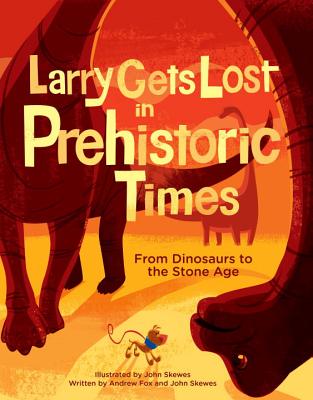 Larry Gets Lost in Prehistoric Times (Hardcover)
From Dinosaurs to the Stone Age
Little Bigfoot, 9781570618628, 32pp.
Publication Date: August 20, 2013
* Individual store prices may vary.
Description
This is a first in a new Larry Gets Lost series that features adventures back through time. In Larry the lovable pup's latest adventure, he falls asleep at home next to Pete (who is reading a book about dinosaurs) and travels back in time, waking up in the pre-historic era! Starting with dinosaurs, where he encounters some big (the Tyrannosaurus Rex and Tricerotops), and others small (the Iberomesornis), he tumbles forward to the Ice Ages where he meets a Wooly Mammoth, and on to the cavemen of the Stone Age. But will he ever find his way back to his best friend Pete and the family again?
About the Author
John Skewes is a veteran illustrator and character artist living in Seattle. His clients include Disney, Warner Brothers, Mattel, and Fox. He is the author/illustrator and creator of Larry Gets Lost. His other books as an illustrator include Pebbles: Daddy's Girl, Tom and Jerry Adventures, and A Chipmunk Christmas.

Andrew Fox grew up in Connecticut, and has lived all over the country. Currently he resides in Seattle where he is an elementary school teacher and loves cooking, hiking, kayaking, and exploring the beautiful Pacific Northwest. This is his first book.
Praise For Larry Gets Lost in Prehistoric Times: From Dinosaurs to the Stone Age…
In Larry the lovable pup's latest adventure, he falls asleep at home next to Pete (who is reading a book about dinosaurs) and travels back in time, waking up in the pre-historic era! Starting with dinosaurs, where he encounters some big (the Tyrannosaurus Rex and Tricerotops), and others small (the Iberomesornis), he tumbles forward to the Ice Ages where he meets a Wooly Mammoth, and on to the cavemen of the Stone Age. But will he ever find his way back to his best friend Pete and the family again?
Editor's Pick, Creative Child Magazine 

This captivating story educates the reader not only about the different types of dinosaurs and animals that lived millions of years but also about the different Eras. Larry Gets Lost in Prehistoric Times is an exciting way to learn about this time period.
In the Know Mom

Larry, a dog who famously got lost in Seattle, now time-travels to learn about dinosaurs, woolly mammoths and Homo sapiens in this picture book.
The Seattle Times

If you have a dinosaur fan in your family, don't miss this book!
Growing My Kids Reviews