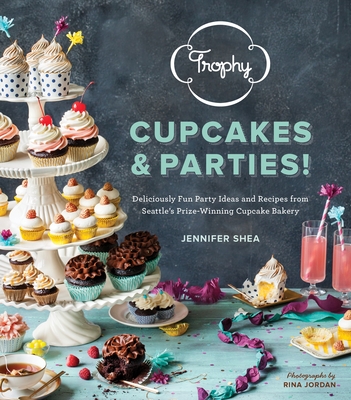 Trophy Cupcakes & Parties!
Deliciously Fun Party Ideas and Recipes from Seattle's Prize-Winning Cupcake Bakery
Hardcover

* Individual store prices may vary.
Description
Seattle's favorite cupcake bakery, Trophy Cupcakes and Party, is adored for its mouthwatering cupcakes and charming party favors. It's also the go-to place for anyone looking to throw a phenomenal celebration, and now their recipes and party secrets are yours in this essential guide for every occasion--from luxe soirées like a sparkling engagement celebration, or an exotic Moroccan-themed bash, to crafty kids' parties, such as a bike parade and picnic, or a forest fairy tea party. Inside are recipes for Trophy's most prized flavor--red velvet!--as well as their popular everyday flavors like salted caramel and triple chocolate, and unique ones such as piña colada, and a gluten-free orange almond rose. You'll also get the basics on how to dream up party themes, create DIY crafts, as well as decorating and entertaining ideas, and insider baking and frosting tips, all from Trophy founder Jennifer Shea.
Praise For Trophy Cupcakes & Parties!: Deliciously Fun Party Ideas and Recipes from Seattle's Prize-Winning Cupcake Bakery…
"Trophy Cupcakes & Party founder Shea shares how she designs inspired theme parties for children and adults (hint: worksheets and helpers are involved). Ambitious readers can dive straight into planning elaborate fêtes like Destination: Paris—complete with crème brulée cupcakes, hand-dyed streamers, signature cocktails, and a French buffet—and novices can start with tips and tricks in Party Planning 101... No detail is spared in this epic entertaining guide that can help readers learn to pipe perfect frosting ruffles and assemble a homemade piñata. Highly recommended."
Library Journal

"Cupcakes have always been one of our guilty pleasures, and stepping into Trophy Cupcakes is like entering a world of delicious temptation. Jennifer Shea opened the Seattle cupcake shop and vintage party supply retailer in 2007, and her mouthwatering treats garnered immediate attention — her cupcakes are consistently regarded as the best in Seattle. Aside from expanding to five additional locations in the area, Jennifer's book Trophy Cupcakes and Parties! is now on shelves."
Glitter Guide 

"Part cookbook, and part party planner, this book will show you how to add that spark to any shindig. Jennifer Shea gives you the scoop, with details on everything from how to make the perfect playlist to incorporating a theme without overdoing it. And there are plenty of beyond-the-basic cupcake and frosting recipes (naturally) including s'mores, margarita, espresso, and coconut rum."
Seattle Met

"Trophy Cupcakes & Parties is the sort of sweet cheefrulness designed to combat post-holiday letdown. Full of recipes, decorations, crafts and party inspiration, you may soon be planning a Forest Fairy Tea Party or a Superhero Training Camp. There are parties for children and adults—glittery engagement soirees, a tribute to Paris (with Lavender Crème Brûlée Cupcakes) and a Camping Party that features the famous Trophy S'mores Cupcake. The Bicycle Picnic may have to wait for warmer weather, but there's enough happy in this book to get us there."
Edible Seattle

"[Jennifer Shea's] book does include recipes for her shop's cupcakes, from chocolate and vanilla to locally famous specialties like the S'mores version featured on the Martha Stewart show. But it's also got really a party planning guide for both kid and adult celebrations, with guidelines and accompanying recipes for decorations like fairy wands for a Forest Fairy Tea Party or even painted wooden buoys for a nautically themed Life Aquatic party."
The Seattle Times

"...this freshman entry into my cookbook collection catapulted straight toward the top of the senior class, kids. Lemme tell ya. And that is because it is much more than just a cookbook. They always say that the best tools in the kitchen are typically the ones that perform beyond one function and that's precisely why that little beauty of a book up there will remain a keeper. Aside from the fact that it's a visual treat to peruse through, and that there are cupcake recipes aplenty (and you know papa knows his way 'round a cupcake), it has inspiration galore for throwing a fantastic fête... Part of Jennifer's philosophy is 'make every day a party' and putting her book to the test proved how easy it is to make that possible. Cheers to that!"
The Bedlam of Beefy

"I am blown away. I own my fair share of cookbooks, cupcake books, and party books, but this is my new go-to. ...the styling of the photos and the book as a whole makes you feel like you're at a charming and whimsical party and leaves you inspired to create one yourself."
Geeky Hostess

"As mom to a 5-year-old and queen of Seattle confections empire Trophy Cupcakes and Party, Jennifer Shea knows a thing or two about kiddie celebrations. Like the fact that first birthdays are as much for parents as they are for the guests of honor. Which is why, in her new cookbook-slash-party guide, Trophy Cupcakes & Parties, Shea recommends throwing a witty, Wes Anderson-themed bash inspired by The Life Aquatic with Steve Zissou. (So great.)"
DailyCandy Kids

"In an era where food trends are quick to come and go, Trophy Cupcakes & Parties has proved its staying power with four busy locations across Seattle. Founded by Jennifer Shea and her husband, Michael Williamson, this sweet destination offers everything from custom party planning to delicious cupcake flavors the likes of bananas foster, which you can now make at home with the shop's debut cookbook filled with deliciously fun ideas. Party on!"
Luxe Interiors + Design

"From throwing the best parties to setting a pretty table to creating the perfect playlist, this book will get me through the planning from beginning to the end!"
Shop Sweet Things

"[Trophy Cupcakes & Parties! is] full of party ideas, including recipes, crafty decor and activities, and all of the style you need to pull off a cool event. I love it--it really celebrates not only the cupcake, but the happy culture which should always surround the cute foodstuff."
CakeSpy

"The Trophy Cupcakes & Parties book is absolutely stunning, from the gorgeous, thick outside cover to the inside pictures and details. Trust me: you will LOVE this book."
Urban Bliss Life

"This lush new books shows what kind of fun you can have when you combine cupcakes with crafts, color schemes, and cocktails.  It's an adult guide to theme parties and has Perfect Girlfriend Gift written all over it... The photos and ideas in Trophy Cupcakes & Parties would inspire any partygiver, whether looking to add panache to a grown-up party or find a new idea for a kid event. When you need more than Pinterest, this would be the source to turn to."
Rose City Reader

"I was really excited that Trophy Cupcakes put out a cookbook full of all their glorious cupcake recipes. Their s'more cupcake with the torched marshmallow topping is killer. The pink champagne cupcake recipe continues to call my name. It's all beautifully collected and bound in a lovely new book... And it's not just sweets, there's some really cute party ideas, like DIY garlands, festive themes with adorable, twee favors—the book is as precious as the whole concept behind Jennifer Shea's gorgeously-crafted cupcake empire."
Wasabi Prime

"Shea's new book, Trophy Cupcakes & Parties, is a treasure trove of decorating, party and craft inspirations, as well as a reminder of the importance of celebrations. ...Whether you're a party pro like Martha Stewart — who learned a tip or two from Shea when she traveled to New York to demonstrate how to make her delicious s'more cupcake recipe — or like I am, slightly intimidated by organizing parties, you'll love the surprisingly simple tips for party-making and ironically, life, found in Shea's artful volume."
Forks in the Road, ParentMap

 "The assortment of cupcake recipes in Trophy Cupcakes and Parties is dazzling.... If you prefer to host birthday parties for the kids at home, Trophy Cupcakes and Parties is definitely worth a look for the decorations and party activities alone."
Geek Mom

"I truly enjoyed the very first look at this exciting new book – filled with delicious recipes, thrilling party themes, planning tools and more – complete with stunning photos by Rina Jordon. It gives entertainers, bakers and party makers a peek into the magic of Trophy Cupcakes and Party."
Kristin Pot Pie

"...you will get tons of Jennifer's great party ideas along with her fab recipes."
The Effortless Chic

"Can't say it enough -- the book is absolutely beautiful. The pages are filled with delectable, gorgeous cupcake recipes and fabulously fun party ideas for the hostess with the mostess!"
The Accessory

"Jennifer Shea includes everything you need to plan the perfect get-together in Trophy Cupcakes and Parties, an entertaining primer named after her popular Seattle-area cupcakery. Each party idea includes ideas for decorations, crafts, activities and, of course, a very special cupcake recipe. Even if you're not a party planner, Shea's tips for making (and decorating) the perfect cupcake are invaluable."
Shari's Berries

"Trophy Cupcakes & Parties is literally a party in a book...whether it's a baby shower or engagement party you are looking for inspiration for, having Trophy Cupcakes & Parties as part of your book collection will give you the head start that you need to make your party dreams a reality."
Satisfy My Sweet Tooth

"The book, Trophy Cupcakes & Parties, helps you throw an elegant celebration with simple details to inspire you to celebrate the little things as well as the big things."
Miss A

"If you are thinking the world doesn't need another cupcake book, you are wrong, so wrong. I'd order it for the prop styling alone. Beautiful, inspiring pictures of parties combined with s'more cupcake recipes. It doesn't disappoint."
The Art of Awkward 

"...a cookbook notable for making outstandingly-decorated cupcakes and offers home cooks a fine celebration-oriented guide to making the cupcake the center of attraction... From tips on creating party themes to decoration hints, this is a 'must' for any cupcake baker: packed with color photos and tips to assure success!"
The Midwest Book Review

"...owner/baker/party-planner Shea sets the collection apart by including themed celebration ideas for adults and kids. There's also a smattering of DIY craft instructions and decorating tips."
Seattle Weekly 
Sasquatch Books, 9781570618642, 240pp.
Publication Date: September 24, 2013
About the Author
A life-long baker and party-maker, Jennifer Shea founded Seattle's Trophy Cupcakes and Party in 2007. Her passion for creating dreamy, decadent cupcakes has made Trophy the city's favorite cupcake bakery. In 2012, Seattle magazine named Shea #21 in "The Top 70 Power Players of the Seattle Food World." She lives in Seattle with her family, and loves to make every day feel like a party.

Rina Jordan is a Seattle-based food photographer.