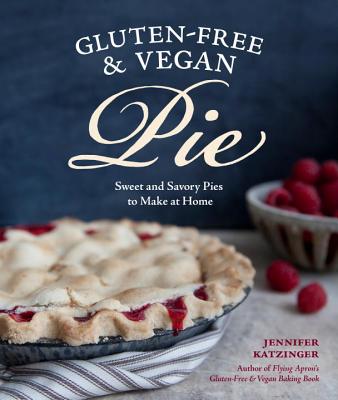 Gluten-Free and Vegan Pie: More Than 50 Sweet and Savory Pies to Make at Home (Paperback)
More Than 50 Sweet and Savory Pies to Make at Home
Sasquatch Books, 9781570618680, 140pp.
Publication Date: August 20, 2013
* Individual store prices may vary.
or
Not Currently Available for Direct Purchase
Description
Dig into this delicious collection of more than 55 gluten-free and vegan pie recipes that rival in taste any "regular" pie out there. Home-baked pie, fresh from the oven, is practically an American tradition. Who doesn't love it? But baking your favorite pies without dairy, eggs, gluten, or animal products calls for a different approach to both fillings and dough. Here you'll find techniques and tips for mixing and working with dough that doesn't contain butter or lard, and for luscious fillings that contain neither cream nor egg. With an emphasis on popular sweet pies such as banana cream pie, blueberry maple, pumpkin chiffon, and traditional apple, and with more than a dozen recipes for various kinds of pie crusts, this cookbook is a must for any pie lover, especially those with gluten-free or vegan diets.
About the Author
Jennifer Katzinger is the former owner of the popular Seattle gluten-free and vegan Flying Apron Bakery (www.flyingapron.com). She is the author of Flying Apron's Gluten-Free & Vegan Baking Book (2009), Gluten-Free and Vegan Holidays (2011), and Gluten-Free and Vegan Bread (2012). The author makes her home in Seattle, WA.
Praise For Gluten-Free and Vegan Pie: More Than 50 Sweet and Savory Pies to Make at Home…
"Do you love pies but dread making the crust? Check out Gluten-Free & Vegan Pie: More than 50 Sweet and Savory Pies to Make at Home (Sasquatch Books) by Jennifer Katzinger. Founder of Seattle's Flying Apron bakery, Katzinger delivers a dozen crust recipes, all free of gluten, dairy and eggs. This includes traditional crusts for fruit pies, easy-to-mold crusts for hand-held and free-form pies, and nut-and-oil pressed crusts for cream pies. From savory fillings for Asian potpie, tamale pie and Provencal tart to sweet treats like chocolate, grasshopper, banana cream and pumpkin chiffon, Katzinger provides recipes for every palate. Helpful notes on ingredients, equipment and handling techniques make these pies easy, any way you slice them."
Living Without

"Gluten-free and vegan baking expert Katzinger (Flying Apron's Gluten-Free & Vegan Baking Book) returns with a new assortment of pies, just in time for holidays and festive occasions. Drawing inspiration from Isa Chandra Moskowitz and Terry Hope Romero's Vegan Pie in the Sky: 75 Out–of-This-World Recipes for Pies, Tarts, Cobblers, and More, a similarly compact paperback, Katzinger presents a breadth of pastry doughs, press-in crusts, and sweet and savory fillings that can be used to make pies, turnovers, cobblers, crisps, galettes, tarts, and more. Recipes call for ingredients such as agar, arrowroot, coconut oil, and brown rice flour, with which most gluten-free and vegan bakers will be familiar. ­VERDICT Highly recommended for gluten-free baking collections."
Library Journal

"One of the most wonderful things about a pie, I think, is how it can be a showcase for gloriously ripe fruits and vegetables. Jennifer Katzinger seems to agree, and her new cookbook Gluten-Free & Vegan Pie is a lovely collection of seasonally-focused recipes. Not to mention 16 different gluten-free and vegan crust recipes!"
The Kitchn 

"Jennifer Katzinger's 'Gluten-Free & Vegan Pie' stands out with its mix of sweet and savory pies, all made without dairy, eggs, gluten or animal products. Chocolate is always a crowd-pleaser at holiday gatherings, and her Chocolate Espresso Tart features it in both the filling and the crust. Talk about decadent!"
The Oregonian

"...the two [recipes] I made from Jennifer Katzinger's Gluten-Free & Vegan Pie, were right up there at the top of the list… The [Chocolate Cream Pie] end result was a gorgeous pie with an unbelievable texture and taste. It was creamy, rich and celestially light, but not too sweet—a very adult bittersweet chocolate flavor. Sensational, really. I was so glad to be sharing it with a roomful of people, because it was the sort of ethereal confection that magically disappears into one's mouth."
Andrea's Easy Vegan Cooking

"Acknowledging that a good, flaky crust is any pie's crowning glory, Katzinger, former owner of Seattle's Flying Apron GF-vegan bakery, offers twelve (!) pie crust recipes, plus four more for savory pies, that contain no wheat flour, eggs, butter, cream, or lard—an impressive feat. I also love that she uses less-refined sugars in minimal amounts, letting the fruit and other ingredients shine. Terrific photos and friendly tone."
Delicious Living

"You can have your pie and eat it too, even if you're gluten-free and vegan, thanks to Jennifer Katzinger's Gluten-Free & Vegan Pie cookbook. This adorable, smaller-sized and easy to handle book contains more than 50 sweet and savory pie recipes. Featuring easy-to-handle press-in crusts to fluted bottom crusts and wedge top crusts. Jennifer takes us through some gluten-free ingredients used in the crusts as well as tips and techniques on handling them and making the pies pretty."
A to Vegan

"Jennifer Katzinger solves all of your problems in her Gluten-Free and Vegan Pie baking book. With over 55 easy to understand recipes you'll have plenty of ammunition for the 'What do you eat during the holidays?' question your family loves to ask. This book might even help you inspire someone's New Year's resolution."
Train Vegan

"Jennifer Katzinger's Gluten-Free & Vegan Pie is a beautifully photographed instruction manual for pie-making. Unlike some other pastry books Pie doesn't intimidate with complex decorating, it focuses on the basics and provides some very helpful advice regarding the construction of your pies. If that sounds like a backhanded compliment it isn't! Gluten-Free & Vegan Pie imparts the skills and recipes for making delicious pies while remaining genuine and simple in its methods. If you're already a wizard with hand-pies and lattice-style crusts you'll be content with the recipes, but if you're as clumsy as I am with dough you'll appreciate the tips and tricks provided and their straightforward presentation."
Chickpea Magazine 
Advertisement