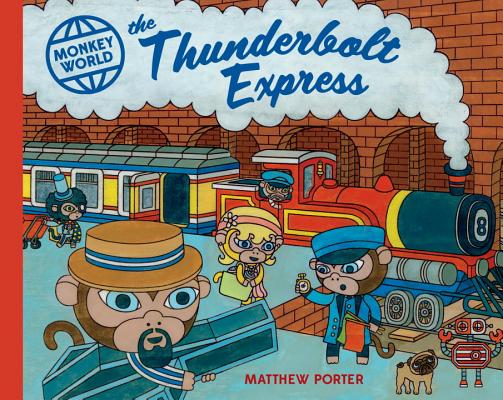 Monkey World
The Thunderbolt Express
Hardcover

* Individual store prices may vary.
Description
"All aboard!" calls the station master. So starts a magical train ride with Jango Jenkins and his Dixieland Band, Oscar the magician, Miss Trixie and her pug dog Napoleon. This is about what happens when a pleasant journey goes all wrong. The pug goes missing. The bridge ahead is missing. And, the handle on the train brake is broken. Only in Monkey World can the solution to this pickle involve shedding all weight to attempt to fly the train!
Praise For Monkey World: The Thunderbolt Express…
...a thrill-a-minute train ride. ...[The characters] are all rendered as stylized, nattily attired monkeys in Porter's cleanly drawn, brightly colored cartoon illustrations. Any expectations of a quiet journey are quickly dispelled as a mystery featuring a vanished pet is followed by a brake failure, a missing bridge, a wild flying leap over a crocodile-infested river and a full-speed trip right through a circus tent. Whew!... The adventure is narrated in a dry, matter-of-fact present tense that folds in some nifty vocabulary as well as conveying these monkeys' personalities... A hoot for younger children fond of monkeys (not to mention, in one scene, monkeys in underpants!).
Kirkus Reviews

An eclectic crowd of monkeys boards the Thunderbolt Express. As the train rolls through hills and fields, Ms. Trixie knits a scarf, Mayday the detective reads a newspaper, and Janjo Jenkins and his Dixieland Band entertain. Trouble awaits as the unsuspecting passengers head toward a missing bridge and a river full of crocodiles... Porter's acrylic illustrations are painted on wood and his distinctive monkeys have big, wide eyes and plenty of personality. Readers will enjoy this quirky, wild ride.
School Library Journal

Get your ticket and climb aboard Monkey World's Thunderbolt Express for a wild adventure. Fans of Thomas the Tank Engine may eagerly climb onboard with the retro-British railway look, but then so will anyone willing to suspend disbelief long enough to enjoy brightly drawn, wide-eyed monkeys in kitschy clothes. One by one we meet the passengers who fill this little pufferbelly train; with names like Fabulous Fred and his Flying Flea Circus, Billy Baxter the ventriloquist and Mono the inventor, Jango Jenkins and his swingin' jazz band, those along for the ride know they'll be in for a delightfully unpredictable plot. When the brake handle brakes off in the engineer's hands and, Oh No The Bridge is Gone! threatens catastrophe, these clever monkeys unload every ounce of extra baggage in time to jump the tracks and fly over the river. ...charminging bright blocky illustrations make this tasty bit of eye candy a perfect "spoonful of sugar" antidote to any over-feeding focus on non-fiction for youngsters. These monkeys are nuts!
Puget Sound Council for the Review of Children's Books

Monkeys here, monkeys there, monkeys everywhere in this thrill-packed story that will spellbind the young reader, while the crisp comments reflect the language level of this group. The locomotive adventure captures the essence of a casual train ride familiar to youngsters, but the monkeyshines that occur on this special junket will have them laughing up a storm. Kudos to the illustrator/author who has captured the magic to childhood imagination. Graphically illustrated, the captivating scenes mesmerize and enchant. Give your kid a treat with this story.
The San Francisco Book Review

Monkey World: The Thunderbolt Express...delights with a cast of kooky monkeys on a page-turning adventure... Porter successfully combines a page-turning plot with illustrations as captivating as the ones in his toddler books ABC and Count the Birdies. Readers will be happy to hear that The Thunderbolt Express is the first in a series of adventures that will take place in the stylish adventureland of Monkey World.
Seattle's Child

Stylish and engaging characters, such as Jango Jenkins and his Dixieland Band, go on a magical train ride full of suspense and intrigue. How will the train make it across the river of crocodiles when it has no tracks? And where has Napoleon the pug disappeared to? Young train fans will enjoy this unique spin on the genre, and parents will appreciate the artistic detail.
The Seattle Times

Monkey World: The Thunderbolt Express is a quick paced book that takes you on a lively journey through Monkey World. You meet some fascinating characters who are all riding the train, the Thunderbolt Express. The book starts off by introducing each monkey character by telling you their name and what they do. The cast of characters are quite amusing. My favorite being Jango Jenkins and his Dixieland Band and my daughter loves Ms. Trixie and her pug dog Napoleon.
 ...I don't think you have to be a train lover to enjoy this gorgeously illustrated book.
In the Know Mom

This is a really fun book with great illustrations. The story moves along quickly and you almost feel like you're on the adventure with the monkeys! …If you have a monkey or train fan in your family check out this fun new book from Matthew Porter!
Growing My Kids Reviews
Little Bigfoot, 9781570618772, 32pp.
Publication Date: September 24, 2013
About the Author
Matthew Porter is a children's book illustrator and writer. He has published six books. Matthew and his wife Andrea owned Bluebottle Art Gallery in Seattle from 2002 to 2010 to highlight his famous Monkey World paintings. The gallery built a reputation for being at the forefront of the DIY indie art, craft, and design movement. His artwork is sold on Etsy and at galleries and shops around the country. Matthew grew up in a village in East Sussex, England, and now lives in Seattle. Find out more at matthewporterart.com.
or
Not Currently Available for Direct Purchase