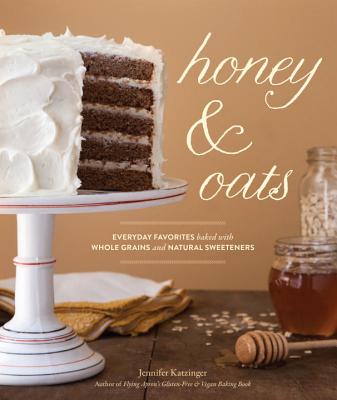 Honey & Oats
Everyday Favorites Baked with Whole Grains and Natural Sweeteners
Hardcover

* Individual store prices may vary.
Description
Learn how to bake delicious treats with whole grains and low-sugar alternatives in this baking book filled with 75 recipes for light, moist, and flavorful cakes, pies, scones, cookies, muffins, bars, and breads. Proving that baking with healthy ingredients doesn't have to mean sacrificing flavor or texture, author Jennifer Katzinger created these classic baked-good recipes replacing sugar with honey, coconut palm sugar, maple syrup, and Sucanat; she uses oats and whole grains, such as teff, kamut, spelt, buckwheat, einkorn, barley, and whole-wheat flour to make delicious and more nutritious baked treats. For those who aren't quite ready to go "all the way," this book also provides recipe adaptations that incorporate some whole grains into their favorite baked goods. Katzinger also includes some gluten-free options.
Praise For Honey & Oats: Everyday Favorites Baked with Whole Grains and Natural Sweeteners…
This work focuses on whole and ancient grains, including such familiar types as whole wheat and oats and the less familiar einkorn, spelt, kamut, and teff, as well as unrefined natural sweeteners such as honey, maple syrup, coconut palm sugar, and ­sucanat. Katzinger's dishes lean toward traditional favorites, such as apple pie, triple-layer chocolate sour cream cake, snickerdoodles, buttermilk biscuits, and pumpkin bread. While each recipe has been specifically developed to suit a particular grain and sweetener, adding a whole new level of complex flavor to a classic, all the recipes offer options for flour substitutions. VERDICT: Interest in whole grains and unrefined sugars continues to grow at a remarkable rate. While not every recipe in Katzinger's latest title is vegan and gluten-free, home bakers who are interested in branching out beyond white sugar and flour will find plenty of healthier alternatives to satisfy their sweet tooth.
Library Journal

. . . if you are excited about the way that whole grain flours change the flavor of a recipe, you should get excited about this cookbook for the way that natural sugars can do the very same. There's so much good here.
A Sweet Spoonful

There are good, solid health reasons to start moving away from white flour and refined white sugar, but Jennifer Katzinger makes it very clear in Honey & Oats that health isn't the only reason to start cooking with ingredients like buckwheat flour, teff flour, and maple syrup. Not by a long shot! These ingredients also take our favorite baked goods and actually make them better — biscuits actually taste sweeter with kamut flour; a carrot cake made with maple syrup tastes richer.
The Kitchn

A helpful ingredients section provides a brief description of the flours and grains, including substitutions for the more obscure (like einkorn or Kamut) as well as health benefits of sweeteners like honey, maple syrup, coconut-palm sugar and Sucanat. . . Healthy bakers of all stripes will find something to love in Honey & Oats.
Shelf Awareness

Filled with beautiful photographs on matte pages, Honey & Oats offers 75 friendly recipes for home bakers trying to incorporate healthy alternatives into their sweet and savory baked goods. 
Rose City Reader

Honey & Oats: Everyday Favorites Baked with Whole Grains and Natural Sweeteners is a cookbook that showcases lower sugar baked goods that are made with whole grains and sweeteners that include honey, maple syrup and coconut sugar for desserts that are just as tasty as their classic counterparts and shouldn't make you feel guilty even if you do end up having that second slice.
Baking Bites

. . . a wonderful cookbook filled with dessert recipes with a twist: all the refined flours and sugars that I normally use without abandon have been replaced with healthy whole grains and natural sweeteners.
Hummingbird High

If you like to bake with whole grains and less refined sweeteners, you will love this book. 
Food in Jars 

One might think nutritious baked treats lack flavor and texture, not in this author's hands. Maple syrup sweetened carrot cake with einkorn flour and vanilla maple frosting is a worthy afternoon treat and the Barley Walnut Boule is a sandwich staple. A few other recipe to try include Granola Bars (gluten-free or vegan variation), Animal Cookies (vegan), and Strawberry and Macadamia Nut Crisp. The photographs and recipes are equally lovely and approachable, for kids (especially my five year-old) and adults alike.
Art & Lemons 

Sasquatch Books, 9781570618918, 176pp.
Publication Date: April 29, 2014
About the Author
JENNIFER KATZINGER is the founder of the popular Seattle gluten-free and vegan Flying Apron Bakery (FlyingApron.com). She is the author of several cookbooks, including Flying Apron's Gluten-Free & Vegan Baking Book, and Gluten-Free and Vegan Pie. She lives in Seattle.
or
Not Currently Available for Direct Purchase