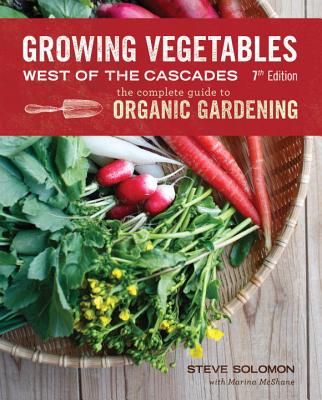 Growing Vegetables West of the Cascades: The Complete Guide to Organic Gardening (Paperback)
The Complete Guide to Organic Gardening
Sasquatch Books, 9781570618970, 356pp.
Publication Date: December 17, 2013
* Individual store prices may vary.
or
Not Currently Available for Direct Purchase
Description
Now in a special updated 6th edition with a new formula for complete organic fertilizer, this complete guide to organic vegetable gardening addresses issues of soil, seeds, compost, and watering. "Growing Vegetables West of the Cascades" evolved from a self-published pamphlet to the master guide to organic vegetable gardening over the past 35 years. Steve Solomon, who founded the Territorial Seed Company, was one of the early proponents of organic gardening, and the first to codify and refine the best practices of small-plot vegetable gardening in the Pacific Northwest. The approaches to understanding and preparing soils, composting, chemical-free fertilizers, efficient uses of water, and garden planning are universal to any climate or region. Solomon gets specific in his extensive advice on growing specific crops--from tomatoes and beans to kale and turnips--in the gentle maritime Northwest climate. He lays out the principles, but advocates that readers think for themselves and grow their gardens as they see fit.
About the Author
Steve Solomon has been writing Growing Vegetables West of the Cascades since 1979. The book has evolved and grown as the author has researched, practiced, and refined the methods of organic gardening. He has homesteaded in Oregon because he believed in living self-sufficiently; he founded the Territorial Seed Company; in 2001 he moved to Tasmania, where he gardens a quarter-acre vegetable plot. Territorial Seed Company was beginning to flourish and Marina McShane joined the crew at the Territorial Seed Company in 1981 working in the seed room and helping Steve Solomon in the trial grounds. It was an intensive immersion into the philosophy and practices of the organic gardening of vegetables. Thirty years later, Marina lives outside Eugene, OR, where she gardens in an acre of deer fenced botanical wonderland, including about 1,200 square feet of vegetable garden.
Praise For Growing Vegetables West of the Cascades: The Complete Guide to Organic Gardening…
"Now in a special updated 6th edition this complete guide to organic vegetable gardening addresses issues of soil, seeds, compost, and watering. Steve Solomon was one of the early proponents of organic gardening, and the first to codify and refine the best practices of small-plot vegetable gardening in the Pacific Northwest. He lays out the principles, but advocates that readers think for themselves and grow their gardens as they see fit."
—My Edmonds News 
Advertisement