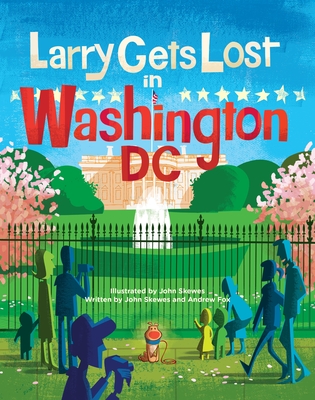 Larry Gets Lost in Washington, DC (Hardcover)
Little Bigfoot, 9781570618994, 32pp.
Publication Date: April 1, 2014
* Individual store prices may vary.
Description
Join Larry the pup as he explores the Lincoln Memorial, the White House, and all the best sights in Washington DC. When Larry gets separated from the family by the scent of a yummy treat, he searches DC for his owner Pete. Along the way, Larry discovers the city's greatest landmarks and learns about the city's—and the nation's—history. Larry makes friends along the way, but will he find Pete and be reunited with the family? Will he come snout-to-snout with the beloved First Dog? Filled with charming retro illustrations, Larry Gets Lost in Washington, DC, is an educational and fun tour of our nation's capital.
About the Author
JOHN SKEWES is the creator and illustrator of the award-winning Larry Gets Lost children's book series. He lives in Seattle, WA.

ANDREW FOX is an elementary school teacher in Seattle.
Praise For Larry Gets Lost in Washington, DC…
. . . the digital artwork is consistently dynamic and appealing. Nicely varied, the illustrations range from a bird's-eye view of the National Mall to a picture of the White House with tourists silhouetted against the green lawn. Older kids will learn from the descriptions of sites set within the illustrations, while younger ones will enjoy following the winding, dotted line that indicates Larry's path. This hybrid of fictional story and informational text is a useful addition to the Larry Gets Lost travel titles for the picture-book crowd.
Booklist 

This is a book that reinforces learning and history and is a fun, unique story. Kids will be engaged and curious as they turn the pages to follow Larry and read the facts presented; they will not even realize how much they are learning!  This reviewer loved the "Get more out of this book" section at the end, which suggests additional ways to use this book as a learning tool. The illustrations are colorful, detailed and realistic. Children will certainly spend hours reading, exploring and repeating all that they learn from this wonderfully engaging book.
Portland Book Review