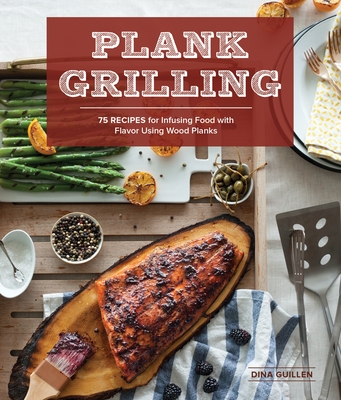 Plank Grilling
75 Recipes for Infusing Food with Flavor Using Wood Planks
Paperback

* Individual store prices may vary.
Description
Use alder, hickory, maple and cedar grilling planks for grilling fish or get creative and make the perfect wood-fired pizza with this versatile cookbook. Grilling with cedar and other flavorful wood planks imparts a wonderful smoky infusion to all kinds of dishes with crowd-pleasing results. Learn how to use wood planks to make smoky homemade bacon, caramelized Butternut Squash and Apple Soup, and flavorful Rack of Lamb with Rosemary Pomegranate Sauce. Filled with color photography throughout, this cookbook explains the basics of plank grilling, such as how to prepare wood planks, as well as how to get the most out of cedar, alder, hickory, and maple planks in 75 versatile recipes.
Praise For Plank Grilling: 75 Recipes for Infusing Food with Flavor Using Wood Planks…
"Currently gaining more and more prominence among chefs and foodies, plank grilling has been around for centuries, points out Guillen (Cooking Club: Great Ideas and Delicious Recipes for Fabulous Get-Togethers), noting that cedar wood has long been used by Native Americans to impart seasoning. Here, she elaborates on that concept, showing home cooks how to use wood planks in a number of settings to impart unique flavors. Using only a handful of woods (cedar, alder, oak, cherry and maple), Guillen uses them to great effect, showing readers how to whip up everything from beet hummus and classic Scotch eggs to barbecue chicken pizza, DIY bacon and flank steak stuffed with artichokes and brie. ...the majority of the dishes (pizza's a favorite, as is fish) are practical and doable, provided readers have a reliable source of untreated wood. Her instructions on the mechanics of plank grilling are sound, to-the-point without being patronizing yet specific enough to ensure consistency and success even among novices. Grillhounds and smoke lovers (not to mention woodworkers and lumberjacks) will find a lot of ingenuity here."
—Publishers Weekly

"The Plank Grilling Cookbook is an outstanding introduction to the innovative cooking style focused on the creatively culinary use of the wood plank. Featuring wonderfully delicious and easy-to-prepare recipes ranging from Beef Tenderloin Steaks Topped With Butter Spread; Gorgonzola And Spinach Chicken Rolls and Chicken, Artichoke, And Sun-Dried Tomato Panini, to Salmon Fillets With Mango, Peach, And Pineapple Salsa; Hot And Spicy Duck Breasts; and Beef Tri-Tip Roast With A Cherry Tomato Festival, The Plank Grilling Cookbook provides readers with recipes for a series of tasty and appetizing dishes. Enhanced with color photography, The Plank Grilling Cookbook is very highly recommended for all readers who are searching for new and different approaches to evening and weekend cookouts."
—Midwest Book Review
 
"Plank Grilling – 75 Recipes for Infusing Foods with Flavor Using Wood Planks is the perfect cookbook for a grill plank beginner or even an intermediate planker like myself."
—The Harried Mom

"This new Plank Grilling cookbook by Dina Guillen gives recipes ideas for cooking on a plank that I'd never thought of before like the peach, proscuitto pizza with arugula or the tri tip rubbed with chocolate or espresso."
—Grill Grrrl

"Dina Guillen has a great new cookbook out that's perfect for your al fresco dining plans"
—SacFoodies
Sasquatch Books, 9781570619007, 176pp.
Publication Date: March 25, 2014
About the Author
DINA GUILLEN is a marketing consultant and cookbook author. She has been a talk-show host and producer for the CBS affiliate in Fresno, California. She lives in Folsom, CA.
or
Not Currently Available for Direct Purchase