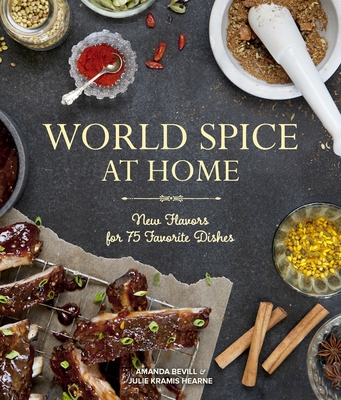 World Spice at Home (Paperback)
New Flavors for 75 Favorite Dishes
Sasquatch Books, 9781570619076, 240pp.
Publication Date: September 30, 2014
* Individual store prices may vary.
Description
Fans of Yotam Ottolenghi's Plenty and Jerusalem will be thrilled with the exciting new spice profiles in these 75 recipes. This book brings the world's exotic spices to your home kitchen to breath new life into favorite, familiar, and traditional dishes with wonderful new flavors. Transform a grilled ribeye steak using an Arabic baharat spice blend; add drama to your carrot cake using Kashmiri garam masala. Spices add gratifying dimension to foods, and while the spice blends come from around the world, these recipes are friendly and familiar.
About the Author
AMANDA BEVILL, owner of World Spice in Seattle's Pike Place Market, is a maven of the big and beautiful world of spices and blends.

JULIE KRAMIS HEARNE received her training at the Culinary Institute of America and worked as a chef at The Herbfarm Restaurant. She is co-author of three cookbooks.

Both authors live in Seattle, WA.
Praise For World Spice at Home: New Flavors for 75 Favorite Dishes…
After explaining how to select, store, and blend whole fresh spices, spice shop owner Bevill (worldspice.com) and cookbook author Kramis Hearne (The Dutch Oven Cookbook) share 75 recipes designed to help readers add global flavors to their everyday cooking. Some recipes, such as Chinese five-spice shortbread cookies and crispy jicama and watermelon salad with sumac, offer just a hint of exotic spice, while others, like grilled salmon with za'atar and herb-caper sauce, are assertively seasoned. Using the table of contents and additional recipe lists, readers can easily browse recipes by course (e.g., small bites, soups and stews, sweets and breads) or by spice blend (e.g., curry, berbere, dukkah). VERDICT: Bevill and Kramis Hearnes's spice blends, which contain 7–14 spices (compared to 40-plus in some ethnic cookbooks), taste superior to many premade and shelf-weary equivalents. Their approachable recipes offer home cooks a gentle introduction to new flavorings.
—Library Journal 

. . . a fresh, surprising collection of recipes that's more than just a pretty scent. Bevill and Hearne's thoughtfulness is obvious in the 50 pages of front matter, a glossary not just of spices, but of blends and how and where they can be found and used. Although many of the basic ingredient combinations here are not new, the seasoning is rich and insightful.
—The Boston Globe

If you have ever explored Pike Place Market in depth you probably know about World Spice tucked down on Western Avenue directly behind the market. The rich smell of spices that waft from the storefront invite you in for another whiff. But deciding what to do with the spices is another story. Enter World Spice at Home: New Flavors for 75 Favorite Dishes, by World Spice owner Amanda Bevill and cookbook author Julie Gramis Hearne. The duo has paired up to bring exotic spices into your home kitchen for use in everyday dishes including soups, stews, brisket, vegetables and even sweets and breads . . . One of the most interesting sections of the book was the "Sweets & Breads" section that incorporated spices into cakes, truffles, cookies and even cornbread. 
—TableTalk Northwest

The 43 Most Anticipated Cookbooks of Fall 2014
—Eater.com

The recipes from World Spice at Home remind me of finding wonderful meals while traveling far away from home, food you instantly fall in love with but know you'll never be able to have again after you leave. This is why we have international cookbooks such as World Spice, so we can sometimes bring these favored dishes home with us.
—Powell's Books blog

Authors Amanda Bevill, owner of World Spice Merchants by Seattle's Pike Place Market, and Julie Kramis Hearne, a chef, writer and cooking instructor, have a world of redolent, palate-tempting ingredients to work from, as their introductory descriptions of spices from ajwain seed to vanilla bean prove. And it's a joy just to flip through the book soaking up the considerable knowledge about spices and spice mixes, as well as their uses, that Bevill and Hearne impart.
—The Seattle Times
Coverage from NPR