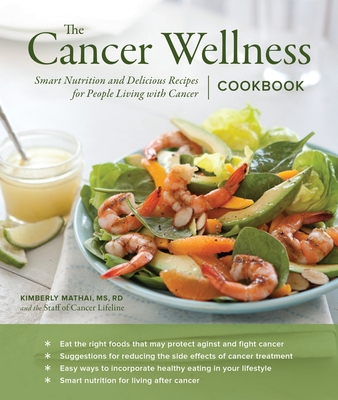 The Cancer Wellness Cookbook
Smart Nutrition and Delicious Recipes for People Living with Cancer
Paperback

* Individual store prices may vary.
Description
Whether you are a cancer patient undergoing treatment, a caregiver, or a survivor, you'll find this cookbook and nutritional guide essential—it includes the latest scientific research on improving the lives of people living with cancer. Created by Seattle's Cancer Lifeline, The Cancer Wellness Cookbook features nutritional plans and 100 recipes focusing on the foods that have been shown to prevent and forestall the spread of cancer. With super healthy and delicious ingredients like berries, mushrooms, beans, tomatoes, and fish, these dishes taste great and are filled with the nutrients that aid a person undergoing chemotherapy and other cancer treatments.
Praise For The Cancer Wellness Cookbook: Smart Nutrition and Delicious Recipes for People Living with Cancer…
"It is refreshing to see such a tasty and approachable guide for cancer patients and their families navigating challenging food choices during and after cancer treatment. The Cancer Wellness Cookbook provides crucial nutritional information and practical pearls for healing the most frequent concerns. There is something for everyone in here, including current clinical research, gourmet recipes, and vital concepts to support patients on their journey to optimal health and nutrition."
—Heidi Lucas, ND, FABNO

"This is an excellent, thoughtful, and helpful cookbook and guide to healthy eating, both for cancer patients and for healthy individuals wishing to diminish their risk of cancer and cardiovascular disease. The author provides a thoughtful analysis of current information concerning the role of diet in cancer prevention, and helpful tips concerning management of nausea, diarrhea, and loss of appetite for patients undergoing chemotherapy and radiation therapy."
—Oliver W. Press, MD, PhD; Member, Fred Hutchinson Cancer Research Center; Professor of Medicine and Biological Structure, University of Washington Medical Center, Seattle

"Fighting cancer with good nutrition need not be boring or unappetizing. The new edition of The Cancer Lifeline Cookbook combines sound, research-based nutritional advice with delicious recipes and practical meal planning and preparation tips. Unlike many other cookbooks, it includes per serving nutritional breakdowns that are helpful to those who are watching their protein, fat, and carbohydrate intake. This book is a wonderful resource for anyone who wants to eat well and stay healthy."
—Patricia L. Dawson, MD, PhD, FACS; Medical Director, Swedish Cancer Institute Breast Program; Medical Director, True Family Women's Cancer Center, Seattle
 
"The Cancer Wellness Cookbook is a helpful resource for patients and their caregivers. More than a cookbook, it gathers information about biological interactions that been shown to affect cancer cells, and how certain foods may increase the body's ability to fight disease and handle side effects from treatment. The recipes are designed to help encourage cancer patients to eat, with intriguing tastes and textures that can keep patients interested in food. The healthy focus is good for the entire family, and is a great direction for the after cancer lifestyle."
—Rick Clarfeld, MD; Breast Surgeon, Overlake Medical Clinics Breast Surgery, Bellevue, WA
 
"The Cancer Wellness Cookbook is an excellent resource that is current, concise, and informative. The tips to help minimize acute problems are relevant and the basic principles of healthy eating will aid in successful cancer survivorship. I applaud Cancer Lifeline, the authors and many collaborators for creating a book that not only will help patients and families, but will serve as an excellent primer for healthcare professionals."
—Eric Taylor, MD; Radiation Oncology, Evergreen Health, Kirkland, WA
Sasquatch Books, 9781570619182, 256pp.
Publication Date: May 13, 2014
About the Author
KIMBERLY MATHAI, MS, RD, CDE, earned a master's degree in integrative nutrition from Bastyr University and completed her clinical training at Tulane University. Kimberly is a national presenter on the topic of nutrition and cancer. She lives in Seattle.
or
Not Currently Available for Direct Purchase