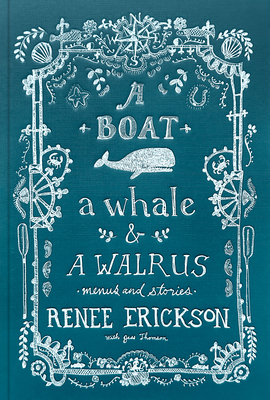 A Boat, a Whale & a Walrus
Menus and Stories
Hardcover

* Individual store prices may vary.
Description
One of the country's most acclaimed chefs, 2016 James Beard Award Winner Renee Erickson is a chef and the owner of several Seattle restaurants: The Whale Wins, Boat Street Café, The Walrus and the Carpenter, and Bateau. This luscious cookbook is perfect for anyone who loves the fresh seasonal food of the Pacific Northwest. Defined by the bounty of the Puget Sound region, as well as by French cuisine, this cookbook is filled with seasonal, personal menus like Renee's Fourth of July Crab Feast, Wild Foods Dinner, and a fall pickling party. Home cooks will cherish Erickson's simple yet elegant recipes such as Roasted Chicken with Fried Capers and Preserved Lemons, Harissa-Rubbed Roasted Lamb, and Molasses Spice Cake. Renee Erickson's food, casual style, and appreciation of simple beauty is an inspiration to readers and eaters in the Pacific Northwest and beyond.
Praise For A Boat, a Whale & a Walrus: Menus and Stories…
"I am one of many—legions, even!—who've been inspired by Renee Erickson and her restaurants, and this book is Renee, through and through."
—Molly Wizenberg, author of Delancey and A Homemade Life
 
"Renee Erickson cooks like a woman, with generosity, sensuality, and style. In this charming book she shares everything—stunning images, wonderful stories, a passionate philosophy, and her recipes to cook and live by."
— Christopher Hirsheimer and Melissa Hamilton, owners of The Canal House
 
"...the book's focus on simple, sourceable ingredients makes the array of mouth-watering menus approachable, whether you're in Erickson's Portage Bay backyard or in the land-locked Midwest."
—Saveur

"Erickson's book has an Ina Garten-like blend of effortlessness and luxuriousness that makes you believe that king salmon with walnut tarator will practically cook itself. But then, with her forgiving guidelines and clear descriptions...it basically does."
—Bon Appétit

"Just like Renee herself, this book is perky, colorful, energetic, and full of fun. And they both make you smile!"
—Patricia Wells, author and cooking school teacher 

Every so often a cookbook comes along that looks good, is written with style, and more important, you find yourself cooking from it and looking for ideas from it all the time. Renee's ideas inspire hunger and they work. I can already predict that I'll wear out my first copy.
—Kermit Lynch, wine importer, and author of Adventures on the Wine Route

This is a book about feasting and unfussy, brilliant food that you'll want to make again and again.
—The Los Angeles Times

"If a trip to Seattle isn't possible, this book provides the next best way to enjoy Erickson's beautiful seafood."
—Library Journal

"...if there is a better looking new cookbook out this fall, I haven't seen it."
—Eater National

". . . While some restaurant cookbooks can feel overly cheffy, inaccessible, or better suited to a coffee table than your kitchen shelves, Erickson's is all personality and warmth, that combination of inspiring and accessible that we're all looking for in a cookbook."
—Food52

"The food in the book is at turns refined and humble, but is always accessible. The ingredient lists are rarely very long, and techniques are uncomplicated and thoroughly explained."
—Serious Eats

"A rare combination of beauty and practicality, allowing home cooks to enter the Seattle restaurateur's world and replicate her super-popular signature dishes."
—The Seattle Times

"Seattle chef Renee Erickson offers a book of seasonal menus (attention other cookbook authors: more menus, please) that showcase the ingredients of the Pacific Northwest."
—Eater ("The 43 Most Anticipated Cookbooks of Fall 2014")
Sasquatch Books, 9781570619267, 320pp.
Publication Date: September 30, 2014
About the Author
RENEE ERICKSON is the chef-owner of Seattle's Boat Street Café and Boat Street Pickles, and co-owns The Walrus and the Carpenter, The Whale Wins, and the Narwhal Oyster Truck.

JESS THOMSON is a Seattle-based freelance writer and cookbook author who has written for Sunset, Cooking Light, Edible Seattle, and Seattle Met magazines.