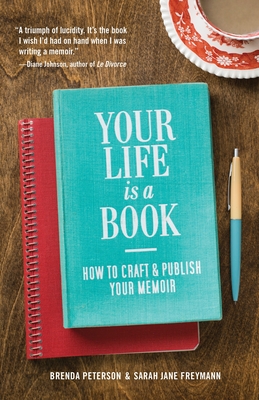 Your Life is a Book
How to Craft & Publish Your Memoir
Paperback

* Individual store prices may vary.
Description
Learn how to write your memoir—and get published—with the help of two well-known publishing professionals
 
Everyone has a story to tell. Your Life is a Book guides budding writers though the transformative process of memoir writing to publication. In addition to exploring the unique elements of crafting a memoir—story arc, point of view, dialogue, where to start (not the beginning!)—Your Life is a Book also focuses on the self-exploration, awareness, and understanding that this emotional literary project triggers. With proven writing exercises and prompts, this book is a practical and enlightening guide to perfecting the art of memoir writing.
Praise For Your Life is a Book: How to Craft & Publish Your Memoir…
If I were going to write the story of my life, this is the book I'd look to first and last for encouragement, inspiration, and practical advice.
—Nancy Pearl, author of Book Lust

In this perceptive, practical, sometimes spiritual guide, the discouraging mysteries of writing are clarified—both business-wise and art-wise. It's the book beginning writers wish for, and one veteran writers will be glad to return to, finding new insights in every rereading.  
—Nicole Hardy, author of Confessions of a Latter-Day Virgin

Your Life is a Book is terrific—a triumph of lucidity. It's the book I wish I'd had on hand when I was writing a memoir, and it's the book I'll definitely recommend to anyone planning to write one. Peterson and Freymann thought of everything, and demystified the difficult process of memoir-writing and soul-searching in the most positive way. Bravo!
—Diane Johnson, author of Le Divorce and Flyover Lives

This book gives you the firm, astute guidance of professionals, mixed with the humor, encouragement, and advice of a good friend—the perfect guide through the often difficult, delicate, and ultimately rewarding journey to completing a memoir. I thoroughly enjoyed it and even after writing two memoirs, I still learned a lot.
—Teresa Rhyne, author of The Dog Lived (and So Did I)

Your Life is a Book is like having a personal writing mentor and practical literary agent guide you every step of the way in telling your life story. Inspiring, instructive, and most of all, inviting, Peterson and Freymann share their own successful writing and publishing experiences with warmth and wit. I wish I'd had this book when I was writing my memoir! 
 —Sy Montgomery, author of The Good Good, Pig

It's one thing to write one's innermost thoughts for the sheer private pleasure of it. It's quite another to adapt those personal musings for public consumption. Crafting a memoir from the bits and pieces of one's life is a brave and daunting challenge and, like every worthy endeavor, one best accomplished with a trusted guide. Or two. Accomplished writer Peterson (I Want to Be Left Behind, 2010) and literary agent Freymann share their personal experiences with the genre and offer valuable and practical tips about writing, revising, agents, editors, and publishers that can only come from those with years of insider access. From framing a narrative arc to finding one's own voice, their advice is spot-on: affirmative, reassuring, inclusive, and accessible. Whether describing a harrowing journey of self-revelation or airing the dirty laundry that has piled up in the corners of dysfunctional family life, the memoirist's goal is to tell that story so as to enlighten both writer and reader. With Peterson and Freymann as coaches, it is a mission that most definitely can be accomplished.
—Booklist

Peterson (I Want To Be Left Behind) and Freymann (founder, Sarah Jane Freymann Literary Agency) bring decades of experience to bear on the subject of writing and publishing a memoir. Affable, confident, and candid, the authors teach that the process, when done right, can be a journey of personal growth, illustrating their points with poignant examples and metaphors. Part 1, "Crafting Your Memoir," introduces the genre and covers an array of topics: death, abuse, family secrets, food, travel, spirituality, animals, and more. The advice on what does and doesn't work with each topic is razor sharp and is the overall strength of the book. Battle-tested tips, exercises, and prompts close most chapters, providing writers an opportunity to practice and apply their craft. The second half, "Getting Serious About Publishing," offers insightful perspectives on blogging, agents, editors, handling rejection, indie publishing, and more. Discussions of factuality, point of view, drafting, and scenes are excellent but could be expanded. ­VERDICT: This is a reassuring introduction to how writers should approach their first memoir and an honest discussion of what it will take to publish one.
—Library Journal 

The process of writing about your past can lead to a boost in self-acceptance, self-awareness and fulfillment. And while it's true that not all of us have time to finish a 200-page manuscript, filling in the answer to . . . three short exercises [from the book] may help you face a difficult experience and recognize your own strengths, personal growth and—yes—wisdom. 
—Oprah.com
 
I've found Your Life is a Book to be one of the best books I've read on how to engage in the writing process, specifically the step-by-step process of writing a memoir worthy of an audience.
—Joy Stocke, Wild River Review

. . . Your Life is a Book is a page-turner filled with insider stories and ways to look anew at your own life story. 
—The Mystic Wave

[Peterson and Freymann] offer plenty of insights gleaned from their own experiences, such as "character evolution is the narrative arc and plot of any memoir" and "for many writers, their work is also a spiritual practice." To these ideas, they add the requisite writing prompts, exercises, and publishing tips. Of particular note are the lessons which Peterson and Freymann draw from the careers of successful memoirists like Cheryl Strayed and Dawn Raffel. The section on publishing is strong, with concrete tips from editors and reviewers . . . eye opening for the aspiring memoirist.
—Publishers Weekly
 
"Exercises and prompts to help us connect to our stories, to connect to ourselves."
—Psych Central
Sasquatch Books, 9781570619304, 272pp.
Publication Date: October 14, 2014
About the Author
BRENDA PETERSON is a writing teacher and award-winning author. Her novel Duck and Cover was named a Notable Book of the Year by the New York Times. She lives in Seattle.

SARAH JANE FREYMANN is the founder and president of the Sarah Jane Freymann Literary Agency and has worked closely with several New York Times bestselling memoir authors. She lives in New York City.
or
Not Currently Available for Direct Purchase