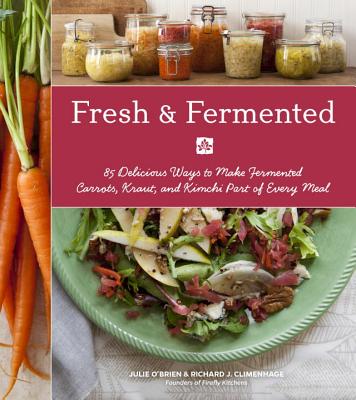 Fresh & Fermented (Paperback)
85 Delicious Ways to Make Fermented Carrots, Kraut, and Kimchi Part of Every Meal
Sasquatch Books, 9781570619373, 224pp.
Publication Date: October 28, 2014
* Individual store prices may vary.
Description
Eating naturally fermented, probiotic foods (such as kimchi) is one of the healthiest and most effective ways to improve digestion. Balance the digestive system and boost your immunity with healthful, simple, and delicious everyday meals using Firefly Kitchens' recipes for fermented kimchi, krauts, and carrots. Making homemade fermented foods is simple and delicious. With eighty-five recipes like Kimchi Kick-Start Breakfast, Smoked Salmon Rueben, and Flank Steak over Spicy Noodles, Fresh & Fermented makes it easy to include these healthy foods in every meal.
About the Author
JULIE O'BRIEN and RICHARD CLIMENHAGE are the owners of Firefly Kitchens. They have been producing fermented foods for over twenty years. They live in Seattle, WA.
Praise For Fresh & Fermented: 85 Delicious Ways to Make Fermented Carrots, Kraut, and Kimchi Part of Every Meal…
Fresh & Fermented is a celebration of the simplicity, power, and versatility of fermented vegetables. With great clarity, user-friendly detail, and gorgeous photos, Julie O'Brien and Richard Climenhage guide readers through the fermentation process itself, followed by dozens of inspiring ways to incorporate fermented vegetables into almost anything you could imagine eating, including smoothies, popsicles, spreads, sauces, dips, salsas, marinades, and even desserts. For people wanting to incorporate the power of fermentation into their lives, this book is a great guide.
—Sandor Ellix Katz, author of The Art of Fermentation and Wild Fermentation

O'Brien and Climenhage take the science and art of lacto-fermentation to a whole new level in this beautifully illustrated book. From a keen look at the science and health benefits of sauerkraut and other lacto-fermented foods, to an assortment of highly original sauces, salsas, salads, dips and desserts incorporating these culinary wonders, Fresh and Fermented is bound to please both experienced and neophyte cooks.
—Sally Fallon Morell, president of The Weston A. Price Foundation and author of Nourishing Traditions

If there's anyone who can persuade me to add kraut juice to my smoothie, stir sauerkraut into my peanut butter, or kick start my morning eggs with kimchi (that last one takes no persuasion), it'll be Richard and Julie who cheerfully spread the gospel of probiotic, lactic-fermented, and locally sourced from their Firefly Kitchens kraut factory in hipster Ballard.
—Tom Douglas, chef/restaurateur

O'Brien and Climenhage started their company, Firefly Kitchens, in 2010 and a year later received a Good Food Award for their zesty Yin Yang Carrots. Their successful venture in fermented vegetables has moved from home crocks to a commercial kitchen space, and their products are sold throughout the Pacific Northwest. The authors' passion for the health benefits and versatility of fermented vegetables is reflected in this attractive cookbook. Raw-fermented vegetables have long been a part of diets around the world and provide beneficial probiotics. O'Brien and Climenhage discuss helpful bacteria, advocate daily consumption, and provide a guide to the basic tools and ingredients of fermented veggies, beginning with a classic kraut. Recipes range from smoothies, sushi, and main dishes to tarts and puddings, all using homemade kraut or kimchi. Attractive illustrations accompany nicely laid-out recipes and easy-to-follow instructions. Verdict: This cookbook provides beginners with straightforward steps to master fermenting vegetables and more seasoned fermenters with a wide variety of menus to keep kraut a part of everyday meals. Recommended for those looking to consume more probiotics and for gardeners with a surplus of cabbage.
—Library Journal

Wherever Firefly flies next, you can be sure Julie and Richard will work tirelessly to introduce the world to their kraut, hopeful to expand the Church of the Raw.
—Edible Seattle    

Delicious and healthy foods need passionate evangelizers, and sauerkraut is lucky to have O'Brien and Climenhage at the forefront of its PR team . . . they've curated a thoughtful, eminently edible collection of recipes that are actually enhanced by the mild juxtaposition of flavors that results from the addition of fermented foods, complete with their added vitamin and probiotic benefits . . . Consider [Fresh & Fermented] money well spent for your digestive system.
—Hobby Farms

I discuss with every one of my patients the critical importance of gut health for overall health and the central role that balanced gut flora have on both the prevention and the treatment of symptoms and disease. Fastly building research and clinical experience is showing health benefits of healthy gut flora in the areas of: immune support, weight management, allergy/asthma control, acute and chronic digestive symptoms—including IBS and IBD, cancer prevention, and more. Adding fermented foods like Firefly Kitchens' sauerkraut to the diet is a great and delicious way to promote a healthy balance of flora. My kids love it! As a mom and a physician, I am very excited to share this wonderful cookbook with patients, friends, and family to use these delicious recipes to help promote wellness and bring these important foods back into our diets. 
—Arti Chandra MD, MPH, Integrative Family Physician, Institute of Functional Medicine Certified Practitioner

Fermentation is all the rage right now. For friends who are fascinated, or want to get into the action, Seattle's Firefly Kitchen now has a book to guide you through kraut and kimchi—with dozens of recipes for how to use your ferments.
—Edible Seattle

This cookbook is perfect for fresh-faced fermenters and experienced picklers alike. It's packed with easy-to-make recipes and enough photos to make you wish you could ferment pretty much everything. Never have the health benefits of fermentation been easier to obtain. 
—CRAFT magazine

This cookbook is filled with creative recipes to help you incorporate fermented foods into every meal (even smoothies)! . . . If you think you don't like sauerkraut, this cookbook just might change your mind.
—In Sonnet's Kitchen

Beyond being full of mouthwatering photos and simple step-by-step recipes for kimchi, sauerkraut, and fermented carrots, the book is totally ingenious. I'm talking recipes here that include adding fermented foods into cakes, popsicle, and breakfast, including smoothies and oatmeal—I know, you're all thinking, "Why didn't I think of that?"
—Wholehearted Eats

Firefly's new cookbook, Fresh & Fermented, is loaded with tips on how to incorporate fermented foods into everyday recipes like smoothies, hummus, salads and even desserts. Plus, it has an abundance of health information as well as a step-by-step guide to home kraut making, including the award winning Firefly Kimchi, Yin Yang Carrots and Ruby Red Kraut.
—Full Circle 

Seems like every week more studies pour forth showing us that the routine decimation of our body's friendly bacteria is wreaking havoc on our health. The bacterial population of the gut informs the immune system (allergies!), the digestive system, our hormones, even our mood.  And after Julie and Richard spell that out simply and beautifully they share umpteen incredible gut-loving recipes so that you can support and replenish your inner friendlies. Supercharge your vitality by routinely making and eating the lively recipes in this book.  I do. By far, my most enlivening food habit.
—Cynthia Lair, author of Feeding the Whole Family