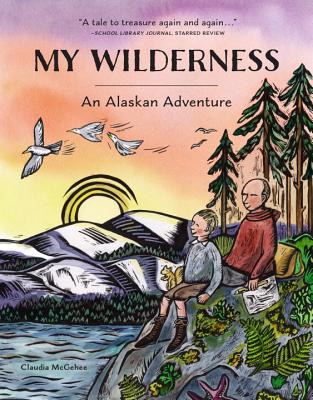 My Wilderness
An Alaskan Adventure
Paperback

* Individual store prices may vary.
Other Editions of This Title:
Hardcover (3/3/2015)
Description
In 1918 painter Rockwell Kent took his nine-year-old son to spend a winter on Alaska's Fox Island. In My Wilderness, Claudia McGehee recounts this vivid nonfiction tale from Rocky's point of view. Colorful scratchboard-style illustrations echo the rugged subject matter with whimsy while showcasing the wonder of Alaska from a young boy's imaginative point of view.

Hailed as "a tale to treasure again and again" by School Library Journal (starred review), this gorgeous picture book highlights the beauty and power of the Alaskan landscape seen through a boy's eyes.
Praise For My Wilderness: An Alaskan Adventure…
In this beautifully presented text, McGehee brings to life the true story of Rockwell "Rocky" Kent III's adventures with his father, Rockwell Kent II, as they spent seven months on a remote island off Seward, AK, during the winter of 1918 . . . McGehee's meticulous scratchboard illustrations pair with Rocky's first-person narrative to foster a tone of wonder and discovery, as driftwood becomes a lookout on the beach and whale fin sightings become pirate ships. The love between father and son is woven throughout the text in the images of Robinson Crusoe read-alouds and joint snow baths in powdery piles outside their cabin. This is a clearly formed tale of father-son adventure that has a nostalgic feel. VERDICT: A tale to treasure again and again as either a storytime read-aloud or an independent read.
—School Library Journal, STARRED REVIEW

Three well-calculated pairs of suspenseful rectos followed by a harmless, concluding page turn keep readers riveted while meting out facts. As the boy heads down a trail, he hears noises that he knows could be a grizzly bear. The page turn reveals a beautiful black-inked portrait of a porcupine. The woodcuts capture the joys of playing in the snow, the warmth of stories by lamplight, occasional loneliness and the hazards of a storm at sea. . . A taste of wilderness of yore to whet the appetites of future fans of Laura Ingalls Wilder, Louise Erdrich and Kirkpatrick Hill.
—Kirkus Reviews

Claudia McGehee has created a beautiful companion and homage to Wilderness with her picture book My Wilderness: An Alaskan Adventure. Based on Kent's memoir and other historical sources, McGehee imagines the story of their time on Fox Island from Rocky's point of view. It's a brilliant approach to a fascinating story, all the more fitting for the scratchboard illustrations that echo Kent's drawings. Though different in format, medium, and execution, both illustrators convey the energy and grandeur of the environment, as well as humor and attention to details of daily life.
—Kid Lit North

In this gorgeously illustrated biographical father-son adventure, McGehee takes us back to one 1918 winter when early American Modernist artist Rockwell Kent II spent seven months on Fox Island off the coast of Seward, Alaska, with his 9-year-old son, Rocky, at "a time when the world was wide, travel was slow and unexpected adventures happened, even to children." . . . It is evident that wilderness lives in McGehee's naturalist heart as well, shown passionately through her subject matter . . . Ending the book with a wonderful author's note and three historic photographs showing Rocky, his father and Mr. Olson with goats alongside their small wilderness cabin, McGehee also includes a thoughtful teacher's guide with discussion questions and activity suggestions.
—The Gazette, Cedar Rapids
Little Bigfoot, 9781570619519, 32pp.
Publication Date: February 7, 2017
About the Author
Claudia McGehee is a Pacific Northwest native and Midwest transplant. An award-winning author and illustrator of three natural history picture books, Claudia became captivated by Rockwell Kent and his family's story after happening upon his paintings.
or
Not Currently Available for Direct Purchase