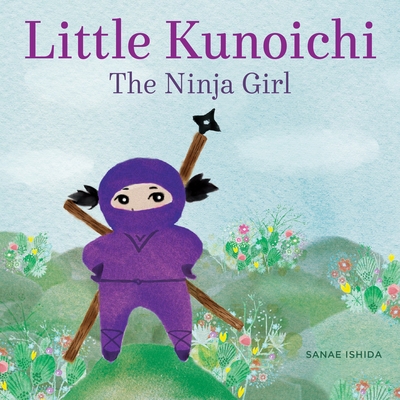 Little Kunoichi the Ninja Girl (Hardcover)
Little Bigfoot, 9781570619540, 32pp.
Publication Date: May 5, 2015
* Individual store prices may vary.
Description
Little Kunoichi, a young ninja in training, is frustrated. Inspired by tiny Chibi Samurai's practice and skills, she works harder than ever and makes a friend. Together, they show the power of perseverance, hard work, and cooperation when they wow the crowd at the Island Festival. Ninja skills don't come easily to Little Kunoichi. She needs determination—and a special friend—to unleash her power!
About the Author
Sanae Ishida grew up drawing princesses, reading Japanese comic books, and writing stories she never shared with anyone. She enjoyed stints in wide-ranging fields, including illustration, education, technology, retail, and theater arts. When not creating on the page, she designs children's clothing, and overly shares stories on her website. She lives in Seattle with her husband and daughter.
Praise For Little Kunoichi the Ninja Girl…
Ishida cleverly and drolly promotes the virtues of hard work, imagination, and play. There is much to intrigue both genders, from silly jokes and pink dragons to swordplay and cunning. Beautiful, vivid pops of color—at once both gentle and vibrant—fill the spreads. The lovely paint-on-paper illustrations have a winning honesty and whimsy. From the text to the artwork, everything about Little Kunoichi's life and culture is made to feel special. This thoughtfulness extends to the backmatter, as a concluding page explains Japanese words and cultural references. Stunning artwork, full of warmth and pizazz, presents a lovable heroine who will win hearts with her perseverance and humor.
—Kirkus Reviews, starred review

Ishida's lovely watercolor illustrations stand out and add charm and depth to this playful tale. There is humor to be found hidden in the pictures and children will be able to pour over them, taking in detail, for a long time. The end contains notes titled "Did you know?" that cover various aspects of Japanese culture that can be found throughout the book, including information about words in the story, like Kunoichi, games, clothing, and ninjas. It is refreshing to see a young girl ninja instead of the male ninjas so often portrayed in picture books. The tale's message of practice does not always have to equal perfection will resonate with young readers. VERDICT A fun title with great appeal.
—School Library Journal

Kunoichi knows she's gotta train like crazy to be a warrior. Gorgeous watercolors, great message.
—Good Housekeeping

Author-illustrator Sanae Ishida delivers lovely, vibrant images—a gentle nod to the watercolors in Mirette on the High Wire by Emily Arnold McCully, and to the sweet, whimsical work of Korean illustrator Uh Soo-Hyun. In one spread, Ishida captures the essence of the festival with such glorious, universal appeal that one could almost (but surely not!) miss the deliciously delightful, intricate kimonos, buoyant lanterns, and sturdy samurais dueling under the bamboo umbrella. If your child adores pretty princesses, be prepared for her to toss her tutu and tiara aside for a shozoko—a precious one-piece that covers all but the eyes. Even pet bunny wears one. This is serious cuteness! Little Kunoichi is a special book for ninjas big and small who want a sneak peek into the magic that transpires when two friends unite in a secret hideaway in a super secret village on a super, super secret island.
—Children's Writer's Guild

"Little Kunoichi: The Ninja Girl" lives on a secret island and attends ninja school in this picture book by Seattle author-illustrator Sanae Ishida (Little Bigfoot, 32 pp., $16.99, ages 4-6). She isn't very good at her lessons (and her bright-pink ninja outfit doesn't help), until Chibi Samurai, who is "perhaps not the best samurai-in-training," inspires her with his constant practicing. The colorful, painted illustrations follow the new friends as they bond over their shugyo ("training like crazy").
—The Seattle Times

A strong and lovable heroine will win you over with her warmth, perserverance and ninja skills!
—Diapers and Daydreams

Overall this was a delightful tale, but the illustrations are really what make this book special. If you have a little ninja in your home, you will want to pick this one up. Let your kids lead the way, find different characters throughout the book, and create a story of their own. You never know where a little ninja's imagination will take them.
—Walking On Travels

This book will become a fast favorite among your petites for many reasons.  First, the story is gorgeously illustrated, my daughters love looking through the pages and seeking out new things within the very detail illustrations.  Another reason that my girls love this book is because Little Kunoichi and Chibi Samurai are exceptionally relatable – they struggle, are innovative, creative, fast friends and best of all they are hard workers and their shugyo style mentality leads them to success.
—The Petite Stag

On a "super secret island" in a "super super secret village," a ninja girl in training, Little Kunoichi, is struggling at school. Newcomer Ishida draws plenty of humor out of Little Kunoichi's situation: "Should have worn the black one," reads a caption next to an image of Little Kunoichi standing against a brick wall while wearing a not-so-stealthy magenta ninja uniform (even her pet rabbit remembered to wear a black one). But Ishida's playful narrative and folk art–like paintings convey significant empathy for Little Kunoichi, never having too much fun at her expense (even when she hits a wild boar with ashuriken, instead of her target) . . . Capping a warm, funny, and encouraging story line about the value of hard work and dedication, Ishida includes an array of information in the endnotes, expanding on references in the text and art to sumo wrestling, ninja training, and other aspects of Japanese language and culture. 
—Publishers Weekly

"[A] fabu children's book."
—Red Tricycle  

"Breaks the stereotypes… shows that girls can be ready for action!"
—Pages for Changes