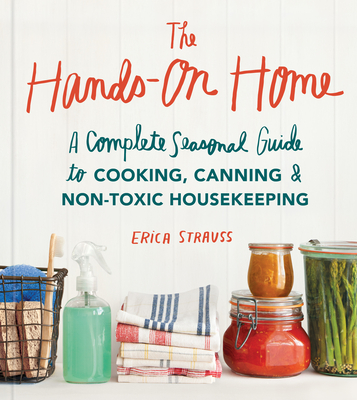 The Hands-On Home
A Seasonal Guide to Cooking, Preserving & Natural Homekeeping
Hardcover

* Individual store prices may vary.
Description
A fresh take on modern homemaking, The Hands-On Home is your go-to manual for DIY homecare and living more sustainably
 
From cooking, canning, and preserving to making your own nontoxic home and personal care products, author Erica Strauss offers instruction and inspiration for tackling at-home projects on your own. In this book, you will learn how to:
 
• Organize and stock your kitchen for easy meal preparation, and then whip up simple but satisfying recipes the whole family will love (Choose-Your-Own-Adventure Granola, Forager Spring Greens Soup, and Simple Crispy Chicken with Roasted Lemon Pan Sauce).

• Use basic food preservation techniques such as water-bath canning, pressure canning, and lacto-fermentation along with a handy year-long food preservation calendar of what to put up when. Preserving recipes are organized seasonally and include Rhubarb Syrup, Pressure-Canned Chicken Broth, Korean-Spiced Turnips, and Cranberry-Pear-Walnut Conserve.

• Create your own home care and personal care products—from Fizzy Bath Bombs and Refreshing Peppermint Foot Scrub to Nontoxic Laundry softener.
 
With less focus on consumerism and more on saving time and money, The Hands-On Home will help you create a home you love with simple resources and easy-to-learn skills.
Praise For The Hands-On Home: A Seasonal Guide to Cooking, Preserving & Natural Homekeeping…
"A lifestyle guide for eco-conscious consumers."
—Publishers Weekly

"This title enables an easy start down the path to a homemade, fun, environmentally responsible lifestyle. Home cooks will discover fresh recipes and adopt techniques the author shared from her professional kitchen experience."
—Library Journal
 
"Offers tips for sustainability-minded modern homemaking. With recipes and instructions for 'urban homesteading,' this book explores reducing consumption and living healthfully."
—Alaska Beyond, Alaska Airlines magazine

"Strauss chronicles her homemade life in The Hands-On Home. The beginner-friendly book features 77 food recipes (think green herb lamb chops with preserved lemon oil) and 38 home and body-care recipes."
—Seattle Magazine

"[Erica Strauss is] something like a one-woman Sunset magazine for home cooks and gardeners in the Seattle region. In this "seasonal guide to cooking, preserving, and natural home keeping" she relays recipes and advice for making your kitchen and home as DIY as you like, from making your own tortillas to making your own toothpaste. An attractively photographed, empowering doorstop of a book, whether readers want to learn canning or want to change their lives."
—The Seattle Times
 
"The book is separated by season, offering simple tips and tricks for the quiet, cozy activism of taking back your home, from seasonal recipes and preserving tips to guides to making your own Bronners-style Castile soap, DIY oven cleaner, and lip balm."
—Portland Monthly

"The Hands-On Home by Erica Strauss is a practical primer for modern, natural homesteading with advice on cooking, preserving, cleaning, and personal care. Organized by season, it offers a years' worth of do-able projects for DIY living, plus enticing recipes like Swiss Chard Gratin and Short Ribs in Red Wine."
—Yahoo! Food

"Erica Strauss acts as your seasonal guide to cooking, cleaning and caring for yourself and your family in a more active way, and making your house truly feel like a home."
—Red Tricycle

"[The] bath bombs are fun to make and the reward for your efforts is a long soak in a heavenly scented bath. Kids love them and if you can bear to give them away, they make great gifts."
 —The Simple Things

"[The Hands-On Home] includes creative, money-saving tips covering just about every aspect of homekeeping."
—Allrecipes.com
 
"Pinterest-perfect craft[s] that are as useful as they are cute."
—Mother Earth News 
Sasquatch Books, 9781570619915, 416pp.
Publication Date: September 29, 2015
About the Author
Erica Strauss is the founder of Northwest Edible Life, one of the most popular and well-respected urban-homesteading and gardening blogs in the country. A professionally trained chef, she shares her fun and punchy perspective on garden-to-table eating and living a slower life though her writings. Erica was featured in Best Food Writing 2013 and regularly writes for national cooking and gardening magazines.
or
Not Currently Available for Direct Purchase