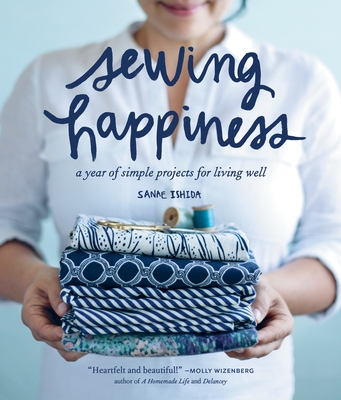 Sewing Happiness (Paperback)
A Year of Simple Projects for Living Well
Sasquatch Books, 9781570619953, 240pp.
Publication Date: April 19, 2016
* Individual store prices may vary.
Description
Twenty simple sewing projects are tied together with a thread of memoir that tells the story of how sewing brought Sanae Ishida profound happiness. Each seasonal project, specially designed to promote health, creativity, relationships and more, provides gentle inspiration to live your best life.

When Ishida was diagnosed with a chronic illness and lost her corporate job, she thought her life was over. But these challenges ended up being the best thing that ever happened to her because they forced her to take stock of her life and focus on the important things, and enabled her to rediscover sewing--her true passion.
 
Inspired to succeed at just one thing, Ishida vowed to sew all of her daughter's clothes (and most of her own) for one year. Sewing Happiness includes 20 projects plus variations (including Japanese-inspired home goods and children's and women's clothing) organized by season, and stitched together with Ishida's charming personal story.
About the Author
SANAE ISHIDA writes, sews, draws, and takes photos almost every day. She lives with her husband and daughter in Seattle. She is the author of a book of sewing projects and personal essays, Sewing Happiness, as well as three children's books in the Little Kunoichi the Ninja Girl series. Both she and her daughter have too many handmade clothes.
Praise For Sewing Happiness: A Year of Simple Projects for Living Well…
2016 Homemaker Magazine Best Home Sewing Book Award Winner 

"In a world of Pinterest-perfect styling and overposed, overedited sewing blog photos, Ishida's honesty is refreshing, and her thoughtful musings on the importance of "taking a break"—whether to sew, enjoy family, or simply appreciate our lives—are a delight."
—Library Journal

"[Ishida] stitches together a memoir, a delightful medley of sewing projects and a strong lesson in wabi-sabi, the concept of finding beauty in imperfection."
—Seattle Magazine

"Part sewing-pattern collection, part one woman's personal tale of her self-help journey, this book aims to be as inspirational as it is useful."
—Booklist

"You might be sewing a pattern, but confidence will also emerge on the other side of the presser foot, and that, Sanae assures, will bring you sewing happiness."  
—Seattle's Child

"This book is beautiful. It's beautifully written, beautifully styled and photographed, and beautiful to hold in your hands. It's the kind of book that you would be thrilled to receive as a gift, and even more excited to give away to someone you love."
—Closet Case Files

"A lovely book, and very relatable if you've ever struggled with your health or with finding meaning and joy in your life."
—Sew Mama Sew

"This book is more than a collection of projects…[it] is an open, honest, raw and vulnerable conversation about how making things can heal us."
—A Happy Stitch

"Sewing Happiness actually digs down deep into the idea that crafting is a meditative, health-boosting practice that really has the power to transform how you feel...bring on the sewing machine!"
—Dream Green DIY

"[Sewing Happiness] is part memoir, part sewing book, and filled throughout with beautiful photography and illustrations.  It is a joy to read."
—Cut Cut Sew

"Sewing Happiness is a beautiful and touching book about the healing power of making.  Part memoir, part craft book, and all gorgeous, you won't be able to put it down."
—Small+Friendly

"This book, unlike most other craft/sewing books, had me reading each and every page, each and every project introduction.  It's moving, inspiring and, of course, instructional as well."
—Buzzmills 

"No book has described the healing and life-affirming practice of sewing more beautifully than Sanae Ishida's Sewing Happiness."
—Sew News

"Shows readers the power of a little creativity in their lives."
—Mother Earth News