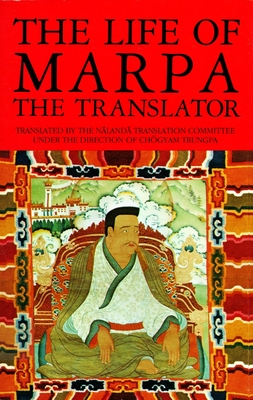 The Life of Marpa the Translator: Seeing Accomplishes All (Paperback)
Seeing Accomplishes All
Shambhala, 9781570620874, 320pp.
Publication Date: June 18, 1995
Description
Marpa the Translator, the eleventh-century farmer, scholar, and teacher, is one of the most renowned saints in Tibetan Buddhist history. In the West, Marpa is best known through his teacher, the Indian yogin Naropa, and through his closest disciple, Milarepa. This lucid and moving translation of a text composed by the author of The Life of Milarepa and The Hundred Thousand Songs of Milarepa documents the fascinating life of Marpa, who, unlike many other Tibetan masters, was a layman, a skillful businessman who raised a family while training his disciples. As a youth, Marpa was inspired to travel to India to study the Buddhist teachings, for at that time in Tibet, Buddhism has waned considerably through ruthless suppression by an evil king. The author paints a vivid picture of Marpa's three journeys to India: precarious mountain passes, desolate plains teeming with bandits, greedy customs-tax collectors. Marpa endured many hardships, but nothing to compare with the trials that ensued with his guru Naropa and other teachers. Yet Marpa succeeded in mastering the tantric teachings, translating and bringing them to Tibet, and establishing the Practice Lineage of the Kagyus, which continues to this day.
About the Author
Chogyam Trungpa (1940-1987)--meditation master, teacher, and artist--founded Naropa University in Boulder, Colorado, the first Buddhist-inspired university in North America; the Shambhala Training program; and an international association of meditation centers known as Shambhala International. He is the author of numerous books, including Shambhala: The Sacred Path of the Warrior, Cutting Through Spiritual Materialism, and The Myth of Freedom.
Advertisement