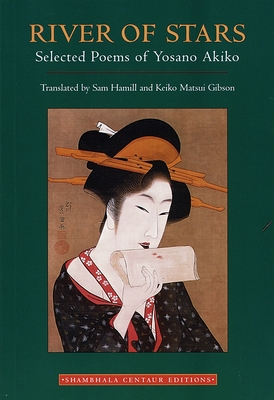 River of Stars (Paperback)
Selected Poems of Yosano Akiko
Shambhala, 9781570621468
Publication Date: March 18, 1997
* Individual store prices may vary.
Description
Yosano Akiko (1878-942) is one of the most famous Japanese writers of the twentieth century. She is the author of more than seventy-five books, including twenty volumes of original poetry and the definitive translation into modern Japanese of the Tale of the Genji. Although probably best known for her exquisite erotic poetry, Akiko's work also championed the causes of feminism, pacifism, and social reform. Akiko's poetry is profoundly direct, often passionate, exposing the complexity of everyday emotions in poetic language stripped of artifice and presenting the full breadth of her poetic vision. Included are ninety-one of Akiko's tanka (a traditional five-line form of verse) and a dozen of her longer poems written in the modern style.
About the Author
Keiko Matsui Gibson is a poet and translator who teaches literature at Kanda University of International Studies in Chiba, Japan.

Sam Hamill has translated more than two dozen books from ancient Chinese, Japanese, Greek, Latin, and Estonian. He has published fourteen volumes of original poetry. He has been the recipient of fellowships from the National Endowment for the Arts, the Guggenheim Foundation, the Woodrow Wilson Foundation, and the Mellon Fund. He was awarded the Decoración de la Universidad de Carabobo in Venezuela, the Lifetime Achievement Award in Poetry from Washington Poets Association, and the PEN American Freedom to Write Award. He cofounded and served as Editor at Copper Canyon Press for thirty-two years and is the Director of Poets Against War.
Praise For River of Stars: Selected Poems of Yosano Akiko…
"The canon of modern Japanese poetry is well-enhanced by this first English edition of one of Japan's twentieth century stellar lights, Yosano Akiko (1878-1942)—the most well-known and controversial female writer of that country in this century. In her lifetime, Akiko published seventy-five books, among them twenty volumes of poetry, along with a definitive modern Japanese translation of the classic Tales of Genji.

"A pioneering feminist, pacifist, and social reformer, her passions were intensely reflected in her literary work, reviving tanka—a form similar to the sonnet—to renewed lyrical essence, creating a unique style of true emotional directness. Given the enormity if reverberative effects in Akiko's poems, Hamill and Matsui Gibson's translations are crisp and incisive, with judicious care given the limits of English syntax. The ninety-one tanka and dozen modern style longer poems translated maintain a sustained pitch of such deeply engaged feeling that one almost reaches Zen-like union with Akiko's mind.

"What is remarkable is her fearless presentation of the sensate reality of the female body in relation to the masculine. Often evoking simple but striking images bordering on fetishism, she shows a very profound sensual connection with her man, her body almost becoming an imbued form of narcissism that challenges him to equal passion as her own. Other riveting poems in this mode address the bodiless perfection of Buddhist novices, immersed in meditation, challenging them to reciprocate and liberate themselves through her passion.

"Her poetry moves swiftly, subsuming one current into another, gathering shades of images and feelings, until the reader is finally swept along in her concentrated intensity of spirit. Some annotation would have been helpful in placing the poems in context to Akiko's eventful life, but the whole range of impact and emotions conveyed in this finely rendered first edition manage to supersede all criticism."—Small Press

"Akiko's verse exhibits a powerful simplicity and grace that make this volume one of much more than historical interest."—Publishers Weekly