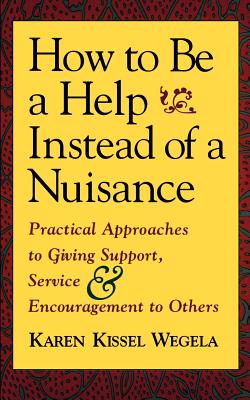 How to Be a Help Instead of a Nuisance: Practical Approaches to Giving Support, Service, and Encouragement to Others (Paperback)
Practical Approaches to Giving Support, Service, and Encouragement to Others
Shambhala Publications, 9781570621505, 252pp.
Publication Date: September 24, 1996
Description
Despite our good intentions to help others, we often hold back because we don't know what to do or are afraid to intrude. Even when we overcome our hesitations, we sometimes find that we have made things worse with our attempts to help. Karen Kissel Wegela combines the insights of traditional meditative practices and modern psychology to address these problems, concluding that the most important thing we can offer to anyone in distress is our mindful presence, without agendas or expectations. When we learn to cultivate this ability to be open-heartedly, compassionately present, we find that we can intelligently apply a variety of skills and techniques, including listening, being mindful companions, and forming supportive teams for individuals and families. We may find that our actions benefit us as much as they do the people we seek to help.

This books provides concrete practical advice, with techniques and exercises for developing the capacity to serve, support, and encourage those in need—for people in the helping professions as well as for everybody else who wants to provide genuine help to others.
About the Author
Dr. Karen Kissel Wegela has been a professor at Naropa University for twenty-seven years. She teaches classes in Buddhism and psychology at the master's level. Dr. Wegela also has a private psychotherapy practice. She holds a PhD in Counseling, Psychology, and Experiential Learning.In addition to her book "How to Be a Help Instead of a Nuisance," Dr. Wegela has written articles for professional journals and she is a columnist for the "Shambhala Sun" magazine.
Praise For How to Be a Help Instead of a Nuisance: Practical Approaches to Giving Support, Service, and Encouragement to Others…
"In her step-by-step handbook, Wegela, director of contemplative psychology at the Naropa Institute, guides readers through the process of becoming present to oneself so as to be able to offer meaningful help to friends, relatives and clients in distress. She states that a sense of lovingkindness toward oneself will flow naturally toward other as help is offered. A practice of give-and-take grounded in Buddhism and meditative practices such as tonglen (learning how to breathe in someone else's emotion and breathe out reassurance and compassion) underlie Wegela's self-healing techniques. Writing in simple, direct language, she uses brief clinical and personal histories to illustrate her points. Three appendices offer useful information on additional professional resources, the Naropa Institute's contemplative psychology program and meditation centers."—Publishers Weekly

"Karen Wegela's book is first-rate healing technology. It teaches the art of doing good well—of making work with others a profound means of working on ourselves. I wish I had read it thirty years ago instead of having to find all this out by the Braille method."—Stephen Levine, author of Healing into Life and Death
Advertisement