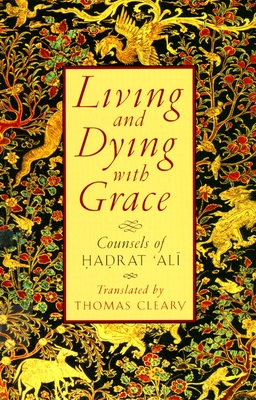 Living and Dying with Grace: Counsels of Hadrat Ali (Paperback)
Counsels of Hadrat Ali
Shambhala, 9781570622113, 120pp.
Publication Date: April 16, 1996
Description
Living and Dying with Grace is a book of aphoristic Sufi teachings on how to make one's way in the world--especially on how to bring spiritual insight to the affairs of daily life. Sufism, the mystical branch of Islam, contains a vast body of knowledge concerning the inner development of the complete human being. Among the greatest of Sufi masters, Hadrat 'Ali (598-661 CE), cousin and son-in-law of the Prophet Muhammad, is regarded as a paragon of compassion and virtue and a master of both exoteric and esoteric knowledge. He was not only a great warrior, statesman, and scholar, but also a devoted husband and father.
Success in this life, 'Ali teaches, is bestowed on those who maintain generosity, intelligence, perseverance, integrity, and calm reflection. As for success in the hereafter, 'Ali says, -God, the Glorified, admits to Paradise anyone, at will, for truthfulness of intention and goodness of innermost thoughts.-
This book contains four hundred of Hadrat 'Ali's teachings, showing how people can use the everyday realities of their lives to cultivate wisdom and well-being, both temporal and eternal, offering a path to living and dying with grace.
About the Author
Thomas Cleary holds a PhD in East Asian Languages and Civilizations from Harvard University and a JD from the University of California, Berkeley, Boalt Hall School of Law. He is the translator of over fifty volumes of Buddhist, Taoist, Confucian, and Islamic texts from Sanskrit, Chinese, Japanese, Pali, and Arabic.
Advertisement