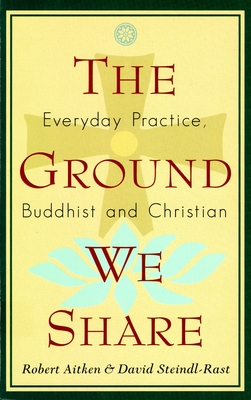 The Ground We Share (Paperback)
Everyday Practice, Buddhist and Christian
Shambhala, 9781570622199
Publication Date: June 18, 1996
* Individual store prices may vary.
Description
These dialogues between Robert Aitken Roshi, one of the first American-born Zen masters, and Brother David Steindl-Rast, the Roman Catholic monk and hermit, took place during a week-long retreat the two old friends undertook in 1991 in a remote part of the island of Hawaii. Their aim was to approach the dialogue between Buddhism and Christianity in a fresh way, one that takes as its starting point a comparison of the personal experiences of the dialoguers—as a Buddhist and as a Christian, respectively—rather than abstract concepts. The result is the discovery of a surprising amount of common ground—the kind of shared experience that forms a solid foundation for further dialogue.
About the Author
Brother David Steindl-Rast, O.S.B., is the author of A Listening Heart, The Music of Silence, and, with Fritjof Capra, Belonging to the Universe: Explorations on the Frontier of Science and Spirituality.
Praise For The Ground We Share: Everyday Practice, Buddhist and Christian…
"This is a lovely, engaging, insightful conversation between two important contemporary spiritual teachers and practitioners, one (Aitken) an American-born Zen master and the other (Steindl-Rast) a Benedictine monk. The conversation is drawn from a week-long retreat that Aitkin and Steindl-Rast shared in Hawaii in 1991. They agree quickly to focus on 'everyday practice' rather than on abstract conceptions of Buddhism and Christianity. The result is not a formal contribution to the growing body of Buddhist-Christian dialogue so much as an illuminating and multifaceted exploration of common ground—the sacred heart that beats at the center of a world shared by Christians and Buddhists. This volume offers a rare opportunity to eavesdrop on a conversation between compassionate believers comfortable with their differences, fully engaged with each other, and fully engaged in the world."—Steve Schroeder, Booklist



"This book is important, not because it advances any broad ecumenical agendas, but because Buddhism has become an important element in the American intellectual landscpae, and most 'New World' Buddhist practitioners have their roots in either the Jewish or the Christian tradition. The Ground We Share is valuable proof that equanimity and honesty must form the common ground of dialogue."—Scott Whitney, Parabola