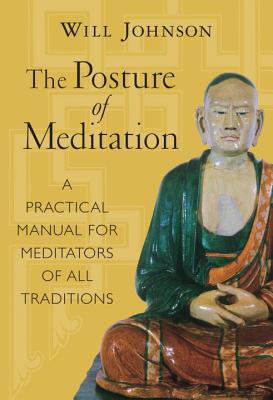 The Posture of Meditation
A Practical Manual for Meditators of All Traditions
Paperback

* Individual store prices may vary.
Other Editions of This Title:
Paperback (8/25/2020)
Description
When it comes to meditation practices, the body is as important as the mind—a fact that may come as a surprise to the many people who regard meditation as a strictly mental activity. But, as Will Johnson shows, the physical aspect of the practice is far too often underemphasized. The alert-yet-relaxed sitting posture that is the common denominator of so many meditative techniques is a wonderful aid for clearing the mind and opening the heart, but it also works to activate the natural healing energies of both body and mind. The author offers guidance and exercises for working with the posture of meditation and advice on how to carry its benefits on into all the rest of life.
Praise For The Posture of Meditation: A Practical Manual for Meditators of All Traditions…
"When Will Johnson first offered The Posture of Meditation in 1996, meditation posture was widely seen as a relatively unimportant, somewhat peripheral aspect of one's practice. This book changed all that, and, over the course of the next 25 years, Johnson convinced more and more practitioners that without the three somatic foundations—alignment, relaxation, and resilience—meditation can't go anywhere. With those three fundaments, it can and does go everywhere, right up to realization. And it doesn't matter what your meditative tradition is. Johnson's book has deeply influenced several generations of meditators and meditation teachers. He has changed the conversation. He has been a bright light in the darkness of the disembodied—as he says, the 'somatophobic'—spirituality of our times. Hence, the reissuing of his groundbreaking work must be a source of delight and joy for all who practice and teach meditation."—Reggie Ray, author of Somatic Descent and The Awakening Body

"Finally, after years in the shadows, the somatic turn is revolutionizing modern Buddhism. Will Johnson, with the gentleness and clarity of a master meditator, leads us home to the body where the wakefulness we have been seeking awaits. The Posture of Meditation, a true classic, demonstrates how body and breath are our true spiritual home, how the simplest of practices ground, enliven, and free you. This path of somatic dharma will not only transform your mindfulness practice—it may well change your life."—Willa Miller, author of Everyday Dharma

"Instantly enriching and insightful. Will offers a refreshing exploration of the body's central role in the path of transformation. Filled with 'a-ha' moments, this book breathes new life into the core concepts and philosophical underpinnings of meditation. Anyone desiring deeper clarity in their practice and life would benefit from reading this."—Ralph De La Rosa, author of The Monkey Is the Messenger and Don't Tell Me to Relax

"Will Johnson's much-welcomed second edition to his classic book, The Posture of Meditation, is a poetic and powerful declaration of the centrality of bodily experience in our task of waking up. Going thoroughly through and then beyond the important physicalities of sitting practice, Johnson deftly shows us how sensation and movement can be our primary delivery systems of resilience, quiescence, and profound presence. He calls this somatic dharma, and it is indeed a powerful teaching. He simply and clearly reveals the ways in which our physical aliveness—our being with our ongoing shimmering sensations and amoeba-like movements—carries us into awakened states of mind. This in turn helps us to experience a 'felt union with all.' Once again, a classic is born."—Christine Caldwell, author of Bodyfulness and Getting Our Bodies Back

"Spiritual awakening is not an escape from the human body, but rather a conscious surrender into the experience of being fully human. Will Johnson understands the vital importance of humanity realizing its true nature as living form, living embodiment."—Robert K. Hall, MD, cofounder of the Lomi Foundation
Shambhala, 9781570622328
Publication Date: October 22, 1996
About the Author
Will Johnson is a certified bodyworker and director of the Institute for Embodiment Training in his hometown of Cobble Hill, British Columbia.
or
Not Currently Available for Direct Purchase