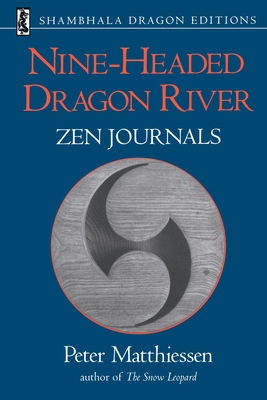 Nine-Headed Dragon River
Zen Journals 1969-1982
Paperback

* Individual store prices may vary.
Description
In August 1968, naturalist-explorer Peter Matthiessen returned from Africa to his home in Sagaponack, Long Island, to find three Zen masters in his driveway—guests of his wife, a new student of Zen. Thirteen years later, Matthiessen was ordained a Buddhist monk. Written in the same format as his best-selling The Snow Leopard, Nine-Headed Dragon River reveals Matthiessen's most daring adventure of all: the quest for his spiritual roots.
Praise For Nine-Headed Dragon River: Zen Journals 1969-1982…
"Very few writers have the courage, inner experience, and literary technique to take us into the reaches of mystic awareness. Matthiessen has; his prose is among the finest of our time—at once sensual and austere, sinewy, yet full of warmth, eloquent yet reverent, polished clean by silence and awe. Nine-Headed Dragon River is a clear gift to us from a complex man who has schooled himself to speak of central things with a most honorable exactitude."—Andrew Harvey, Vogue



"Remarkable, memorable nonfiction. Matthiessen's prose is as strong and pure as ever."—Duncan Spencer, Washington Post

"Peter Matthiessen's book embodies the spirit of Zen in America."—Hakuyu T. Maezumi, Zen Center of Los Angeles
Shambhala, 9781570623677, 304pp.
Publication Date: April 28, 1998
About the Author
Peter Matthiessen, distinguished novelist, naturalist, journalist, and explorer, was born in New York City and has been a commercial fisherman and charterboat captain. He participated as a diver in the worldwide search for the great white shark that culminated in his book Blue Meridian and in the film Blue Water, White Death. His fiction includes Race Rock; Partisans; Raditzer; At Play in the Fields of the Lord, which was nominated for a National Book Award; and most recently Far Tortuga. His nonfiction includes The Tree Where Man Was Born, which was nominated for a National Book Award, The Snow Leopard, which won a National Book Award in 1979, and In the Spirit of Crazy Horse.