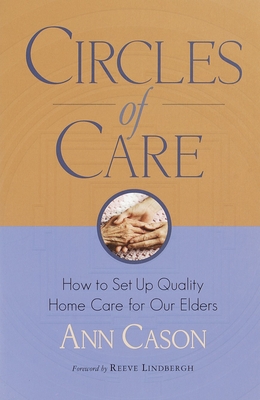 Circles of Care: How to Set Up Quality Care for Our Elders in the Comfort of Their Own Homes (Paperback)
How to Set Up Quality Care for Our Elders in the Comfort of Their Own Homes
Shambhala, 9781570624711, 194pp.
Publication Date: April 10, 2001
Description
"My parent needs help, but refuses to consider a nursing home." That's the dilemma facing millions of baby boomers today. How can we ensure responsible, compassionate, even uplifting care for our aging parents at home?

Mindfulness is key, Ann Cason writes. Good care begins with watching and listening, with entering the elder's world and accepting it. Drawing on decades of experience in caring for the elderly, Cason helps us understand how old age feels and how we can help.
Then, through exercises, care studies, and numerous examples and suggestions, "Circles of Care " shows how to:

- Work out a plan of care
- Assemble and foster a caregiving team
- Create an uplifting daily routine--and vary it creatively
- Plan nutrition, medical needs, finances, and outings
- Improve the elder's personal care and physical environment
- Ease conflicts between elders and their caregivers or families
- Avoid caregiver burnout
- Work with mood swings, confusion, and memory loss.
About the Author
Ann Cason is founder and director of Circles of Care, an organization that provides homecare consulting and training services to both families and caregivers of the elderly. She has been a caregiving coordinator and consultant for over twenty years.
Praise For Circles of Care: How to Set Up Quality Care for Our Elders in the Comfort of Their Own Homes…
"In Circles of Care , Ann Cason offers this advice to those hiring caregivers for old folks: 'Don't hire anyone unless you would enjoy being with that person yourself.' Legions of elderly respond with riotous applause."—Shambhala Sun



"Circles of Care brings us home, into a fresh, generous, and gentle approach to the care of our elders, as well as a deeper understanding of ourselves."—Branches of Light

"Circles of Care is one of the best-researched books on the most urgent issue facing older Americans and their families: recruiting and keeping qualified and sensitive caregivers for elders faced with problems ranging from physical ailments to dementia. Ann Cason's superb book uses true-to-life examples to help family members and caregivers alike work their way through this complicated maze."—William K. Wasch, National Council on Aging; author of Home Planning for Your Later Years



"Brilliant! Utterly on the mark; warm, wise, and compassionate. In Circles of Care , Ann Cason's vast experience shows: she provides a comprehensive eldercare guide that (finally!) addresses the often overlooked emotional terrain of aging and decline, giving it the gift of dignity it so rightly deserves. This is a must-read for any of us sharing life and caring at home for those we love."—Marilyn Webb, author of The Good Death; former editor-in-chief, Psychology Today
Advertisement