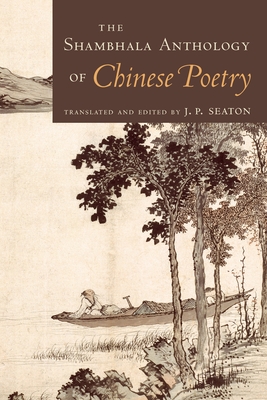 The Shambhala Anthology of Chinese Poetry (Paperback)
Shambhala Publications, 9781570628627, 246pp.
Publication Date: August 8, 2006
Description
In traditional Chinese culture, poetic artistry held a place that was unrivaled by any other single talent, and was a source of prestige and even of political power. In this rich collection, J. P. Seaton introduces the reader to the main styles of Chinese poetry and the major poets, from the classic Shih Ching to the twentieth century. Seaton has a poet's ear, and his translations here are fresh and vivid.
About the Author
J. P. Seaton is Professor of Chinese at the University of North Carolina, Chapel Hill. He is the translator of numerous books, including The Poetry of Zen and The Shambhala Anthology of Chinese Poetry, and his poetry translations have been widely anthologized in such books as The Anchor Book of Chinese Poetry, The Norton Anthology of World Poetry, and The Vintage Book of Contemporary World Poetry.
Praise For The Shambhala Anthology of Chinese Poetry…
"Mindful of Robert Frost's famous maxim, 'Poetry is what is lost in translation,' Seaton yet risks the loss for the sake of opening doors otherwise closed to readers lacking Chinese. . . . The essays as well as the translations make the book a fine gateway to China's long poetic tradition."—Booklist

"Jerome Seaton is the finest living translator and explicator of Chinese poetry; beyond a genius for interpretation and impeccable scholarship. Seaton has that quality that can magically transcend intuition and learning: he is a poet."—Carolyn Kizer, author of Cool, Calm, and Collected: Poems 1960–2000

"Luckily for his readers, J. P. Seaton is also a considerable poet who wears his erudition lightly in his lively commentary to this great sweep of Chinese poetry."—John Balaban, translator, Spring Essence: The Poetry of Ho Xuan Huong

"J. P. Seaton's luminous translations are accurate in presenting the meaning and order of words and images from the original while revealing the true spirit of these poets."—Sam Hamill, author of Almost Paradise: New and Selected Poems and Translations

"This anthology, with its inviting introduction, represents the lifework of the translator and a heritage of scholarship. It is a great gift to the language and poetry of our time."—W. S. Merwin, author of Migration: New and Selected Poems
Advertisement