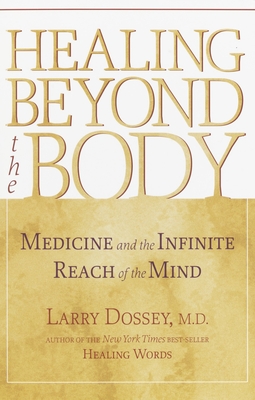 Healing Beyond the Body: Medicine and the Infinite Reach of the Mind (Paperback)
Medicine and the Infinite Reach of the Mind
Shambhala, 9781570629235, 386pp.
Publication Date: February 11, 2003
Description
Does the mind produce consciousness--or transmit it? Can machines detect love? Why has job stress become a worldwide epidemic? Why do objects sometimes seem to have minds of their own? Could war be a biological condition? Dr. Larry Dossey, one of the most influential spokespersons for the role of consciousness and spirituality in medicine, tackles all these questions and more with clarity and wit. In this book, he explores the relationship--often documented in extensive research--between science and "unscientific" topics such as prayer, love, laughter, war, creativity, dreams, and immortality.
About the Author
Larry Dossey, M.D., is a physician of internal medicine. He was a battalion surgeon in Vietnam, chief of staff at Medical City Dallas Hospital, and a member of Hillary Rodham Clinton's Task Force on Health Care Reform. He has lectured all over the world, including at the Mayo Clinic, Harvard, Johns Hopkins, Cornell, and numerous other major universities and medical schools. His eight other books include "Space, Time, and Medicine; Healing Words; " and "Prayer Is Good Medicine. "
Praise For Healing Beyond the Body: Medicine and the Infinite Reach of the Mind…
"Reading Dossey is our prescription for all those who want to keep their souls nourished in these meaning-ripe times."—Spirituality & Health



"Simultaneously joyous, amusing, insightful, profound, and challenging."—Choice



"If you believe that going fishing is good for your health and that love can be a cure for what ails you, then you see modern medicine in much the same way Dr. Larry Dossey does."—The Times -Picayune

"Larry Dossey's words of wisdom have inspired and challenged me for years. Healing beyond the Body is a sumptuous buffet of Dr. Dossey's most charming, healing, and delectable insights. There's something here for everyone—it's chicken soup for the body and soul, served with insight, intellectual rigor, and great compassion."—Christiane Northrup, M.D., author of Women's Bodies, Women's Wisdom, and The Wisdom of Menopause

"Dr. Larry Dossey reveals the extraordinary range and depth of his pioneering and enchanting vision. He is this generation's Lewis Thomas."—Dean Ornish, M.D., author of Dr. Dean Ornish's Program for Reversing Heart Disease and Love & Survival

"The essays in Healing beyond the Body are wide-ranging and exciting—from dreams to creativity to prayer and immortality—but they all explore the nature of consciousness and its role in healing. Larry Dossey reminds us that ultimately healing is about self-discovery, self-discovery is about spirit, and spirit is about consciousness."—Ken Wilber, author of A Theory of Everything: An Integral Vision for Business, Politics, Science, and Spirituality

"Larry Dossey is wise, great-hearted, and good-humored guide on our journey toward healing ourselves and our planet. Reading his graceful essays on humor and love, physicians and food, physics and faith, we are informed, delighted, and transformed."—James S. Gordon, M.D., author of Manifesto for a New Medicine
Advertisement