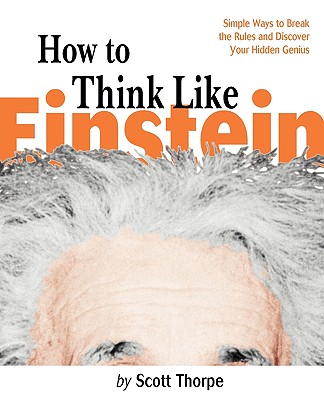 How to Think Like Einstein: Simple Ways to Solve Impossible Problems (Paperback)
Simple Ways to Solve Impossible Problems
Sourcebooks, 9781570715853, 256pp.
Publication Date: November 1, 2000
* Individual store prices may vary.
or
Not Currently Available for Direct Purchase
Description
In this totally accessible, ingenious book, you will learn the tricks and techniques to solve bewildering problems from the greatest minds in history, including Albert Einstein. From business and parenting to becoming more creative and improving relationships, How to Think Like Einstein provides the tools to discovering breakthrough solutions to everyday challenges.
Author Scott Thorpe will guide you step-by-step through the process of freeing yourself from your "rule ruts" to dreaming up some of the craziest, but possibly most important, solutions of your life Learn to solve your problems by:
--thinking like a bug
--organizing a party
--learning the game of poker
--pretending you're James Bond
--acting like a millionaire

About the Author
Scott Thorpe received an MBA from the University of California, Berkeley, and has designed robots, military flight simulators, semiconductors, computers and medical devices. Thorpe is fluent in Chinese and Japanese, and has launched five major new products in companies from Silicon Valley start-ups to Intel. He is currently the program manager for Soni Innovations, a pre-IPO medical device company. Thorpe spends his spare time living as an author and developing new products. He resides in Utah with his wife and two children.
Advertisement