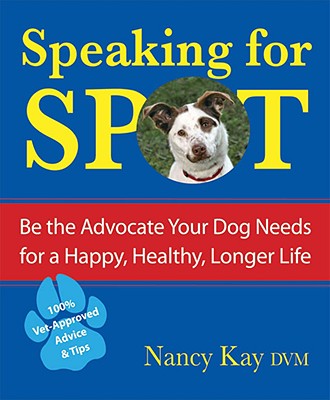 Speaking for Spot (Paperback)
Be the Advocate Your Dog Needs to Live a Happy, Healthy, Longer Life
Trafalgar Square Books, 9781570764059, 384pp.
Publication Date: October 1, 2008
* Individual store prices may vary.
Description
"Kay provides an insider's guide to navigating the potentially overwhelming, confusing, and expensive world of veterinary medicine . . . the consummate guide to how to be your best friend's medical advocate!"  —Animal Radio
"Could save you thousands of dollars and give you the tools to prevent the heartache that comes with making uninformed or rushed decisions about your dog's health care."  —Linda Tellington-Jones, animal behaviorist and author, Getting in TTouch with Your Dog; Getting in TTouch with Your Puppy; and Unleash Your Dog's Potential
"Dogs deserve to have good books written about them . . . and this is one."  —Desmond Morris, author, The Naked Ape, Dogwatching, and Dogs: The Ultimate Dictionary of over 1,000 Breeds
"This is the book I wish I had when dogs first entered my life. . . . It's the other best friend you need when making routine veterinary decisions for your dog or potentially heart-breaking ones."  —Amy Tan, author, The Joy Luck Club and The Kitchen God's Wife
"A must-have book for each and every one of you; in fact, order two—one for home and one to keep in your car or in your workplace."  —Jan Rowley, editor, The Cavalier Wag, newsletter for the Bay Area Cavalier King Charles Spaniel Club
"I love Nancy's thoughtful and compassionate voice, and couldn't agree more with her encouragement to all of us to be active advocates for our pets' veterinary care."  —Patricia McConnell, world-renowned certified applied animal behaviorist
"If a dog owner could have only one book for health information, this is it. This is an excellent book at a reasonable price. I highly recommend it."  —Susan M. Cotter, DVM Diplomate American College of Veterinary Internal Medicine, in the Journal of the American Veterinary Medical Association
Dr. Nancy Kay has one wish for today's tail-wagging population—that attached by a leash to every dog is a motivated and effective human advocate.
She admits motivation is the easy part, as most people really want to provide their dogs with the best health care. But making good medical decisions for your dog can be difficult and challenging.
As a dog lover you are confronted with health-care decision-making on many levels: Which veterinarian is the right one for me and my dog? Which vaccinations does my dog need? Is it time to get a second opinion? Where do I get one? How much is this going to cost? Is there a more economical option? Is this medication necessary? Is my dog ready to say goodbye? Am I ready to let him go?
And then there are the myriad symptoms your pup might experience— the lumps and limps and sneezes and appetite changes that make you wonder:
Is that normal? Should I take my dog to the vet immediately? Should I wait and see if he's better tomorrow?
When dealing with these questions, you may feel alone and ill-prepared, desperate for a knowledgeable source to gently explain what your options really are, and how to determine which best serves the needs of your canine and human families. Luckily, you've come to the right place!
In Speaking for Spot, Dr. Kay provides an insider's guide to navigating the overwhelming, confusing, and expensive world of veterinary medicine with a warmth, candor, and humor cultivated over 20-plus years of working with canine patients and their human companions. She explains the vet's point of view, and how to initiate and nurture a healthy relationship with a vet and her staff. She leads a guided tour through a modern veterinary land comprised of high-tech scanning devices, advanced surgery, physical rehabilitation, and more—the kinds of amazing medical procedures you expect to find in a human hospital, but may not have known were available for your four-legged friends.
Dr. Kay helps you come to grips with a cancer diagnosis, and explains the tough choices that are bound to follow. Plus, you'll find an alphabetical listing of the most common symptoms experienced by dogs and the questions your vet is sure to ask when you report them—not to mention hundreds of prevalent diseases and related points you should be certain to clarify before leaving your vet's office with a treatment plan in hand.
The result is everything you need to know in one fabulous, fully illustrated book. You will not find a more thorough, in-depth guide to ensuring high-quality treatment for your dog.
About the Author
DR. NANCY KAY wanted to become a veterinarian for just about as long as she can remember. Her veterinary degree is from Cornell College of Veterinary Medicine, and she completed her residency training in small animal internal medicine at the University of California--Davis Veterinary School.Dr. Kay is a board certified specialist in the American College of Veterinary Internal Medicine and published in several professional journals and textbooks. She lectures professionally to regional and national audiences, and one of her favorite lecture topics is communication between veterinarians and their clients. Since the release of her book, Speaking for Spot: Be the Advocate Your Dog Needs to Live a Happy, Healthy, Longer Life, Dr. Kay has lectured extensively and written numerous magazine articles on the topic of medical advocacy. She was a featured guest on the popular National Public Radio show, Fresh Air with Terry Gross.Dr. Kay is a staff internist at VCA Animal Care Center, a 24 hour emergency/specialty care center in Rohnert Park, California. As a way of providing emotional support for people with sick four-legged family members, Dr. Kay founded and helps facilitate the VCA Animal Care Center Client Support Group. She also facilitates client communication rounds for VCA Animal Care Center employees.Dr. Kay was selected by the American Animal Hospital Association to receive the 2009 Hill's Animal Welfare and Humane Ethics Award. This award is given annually to a veterinarian or non-veterinarian who has advanced animal welfare through extraordinary service or by furthering humane principles, education, and understanding.Dr. Kay's personal life revolves around her husband (also a veterinarian), her three children (none of whom aspire to be veterinarians) and their menagerie of dogs, cats, birds, horses, and goats. When she's not writing, she spends her spare moments in the garden or riding along the beach atop her favorite horse. Dr. Kay and her family reside in Sebastopol, California. www.speakingforspot.com
Praise For Speaking for Spot: Be the Advocate Your Dog Needs to Live a Happy, Healthy, Longer Life…
"An engaging, compelling, and truly indispensable book . . . the perfect guide that will make a tremendous difference for dogs and for the people who love them."  —THE BARK magazine
"At last! An accurate, thorough health book."  —
The Whole Dog Journal
"We finally have a book that makes sense of it all! With experience, warmth, wit, and candor, Dr. Nancy Kay provides an authentic, user-friendly guide for making all types of health care choices for your dog."  —Marty Becker, DVM, resident veterinarian on Good Morning America, nationally syndicated newspaper columnist, and cofounder of petconnection.com
"In previewing Speaking for Spot I found myself wishing that Dr. Kay's book had been available when I was in practice, and read by the clients who chose me to be their pet's veterinarian."  —John W. Albers, DVM, executive director, American Animal Hospital Association
"Dr. Nancy Kay offers guides to selecting the right veterinarian, when to ask for a second opinion and tips on choosing the right treatment option. Much of the information can pertain to cats, too."  —
New York Daily News
"Tremendous practical value to dog lovers and should be mandatory reading for veterinarians."  — Kevin T. Fitzgerald, PhD, DVM, DABVP, Animal Planet's
Emergency Vets
and
E.R. Vets: The Interns
"A guide for pet owners struggling to understand the world of veterinary care."  —Dog Fancy
Featured on National Public Radio's highly acclaimed show, Fresh Air with Terry Gross.  —www.freshair.npr.org
Coverage from NPR
or
Not Currently Available for Direct Purchase