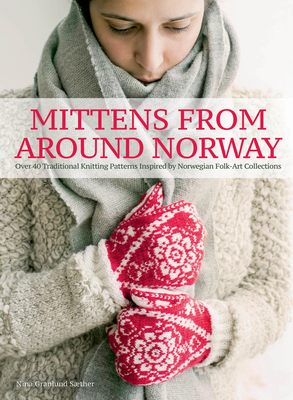 Mittens from Around Norway (Hardcover)
Over 40 Traditional Knitting Patterns Inspired by Folk-Art Collections
Trafalgar Square Books, 9781570768224, 192pp.
Publication Date: May 23, 2017
* Individual store prices may vary.
Description
Take a trip to Norway--without ever setting down your needles Let Nina Granlund S ther guide you through Norway's mountains, rivers, and countryside as you delve into 400 years of Scandinavian knitting history. Reconstructed from historical sources or drawn directly from the author's familiarity with Norwegian pattern knitting, more than 40 textile treasures are collected here, from the well-loved Selbu mittens to lesser-known delights whose fascinating origins have been carefully traced. Resting on a foundation of formidable research, with stunning photographs by Guri Pfeifer and clear, helpful pattern charts, Mittens from Around Norway is a brilliant combination of design inspiration and historical reference that belongs on every knitter's bookshelf.
About the Author
Nina Granlund Sæther grew up in Asker, Norway, just outside Oslo. Her love for and interest in knitting, sewing, embroidery, and crochet started before she was even old enough to go to school. She is educated as a craft teacher, and worked for a short time in high school. In 1987 she started her career as a journalist with Norsk Husflid, a Norwegian arts and crafts magazine. Today she works as an editor in chief at Hus & Bolig, a magazine about houses and property. In 2013 she was honored for her work by The Norwegian Specialized Press Association. Sæther has written several books about arts and crafts, and also designs for some Norwegian magazines; her focus is creating original and visually striking craft in a Scandinavian-influenced tradition.