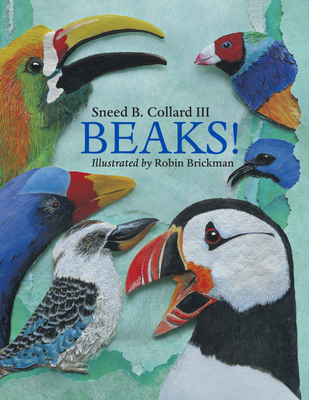 Beaks! (Paperback)
Charlesbridge, 9781570913884, 32pp.
Publication Date: July 1, 2002
* Individual store prices may vary.
Description
Young naturalists explore a variety of birds, their habitats, and how their beaks help them build, eat, and survive.  From the twisted beak of a crossbill to the color changing bill of a seagull, readers will learn fun facts about how beaks are designed and used as tools by birds of all shapes and sizes.  Bright, bold cut-paper illustrations create amazingly realistic tableaus of birds in their natural environments with their beaks in action. Back matter includes a comprehensive quiz, a bibliography, and a list of related websites.
About the Author
Sneed B. Collard III has been a biologist and a computer scientist. He's put his knowledge and experience to use by writing more than thirty children's books, including MANY BIOMES, ONE EARTH; BEAKS; and TEETH. He began writing after graduating with honors in marine biology from the University of California at Berkeley. After earning his master's in scientific instrumentation at the University of California at Santa Barbara, he continued to hone his craft while serving as a computer consultant for biologists. He lives in Missoula, Montana.