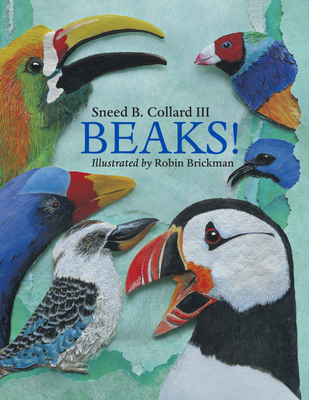 Beaks! (Paperback)
Charlesbridge Publishing, 9781570913884, 32pp.
Publication Date: July 1, 2002
Description
How can a toucan fly with such a large, cumbersome beak? A toucan's beak is actually light as a feather due to its honeycomb construction. And not only is it beautiful, but it's an extremely useful tool in foraging for food. Find out more fascinating facts in this remarkably illustrated study of bird beaks. Learn about several different birds, their habitats, and how their beaks are uniquely styled to help them survive. Outstanding 3-D cut-paper illustrations by Robin Brickman create amazingly realistic tableaus of birds in their natural environments with their beaks in action. Back matter includes a comprehensive quiz, a bibliography, and a list of related Web sites.
About the Author
Sneed B. Collard III has been a biologist and a computer scientist. He's put his knowledge and experience to use by writing more than thirty children's books, including MANY BIOMES, ONE EARTH; BEAKS; and TEETH. He began writing after graduating with honors in marine biology from the University of California at Berkeley. After earning his master's in scientific instrumentation at the University of California at Santa Barbara, he continued to hone his craft while serving as a computer consultant for biologists. He lives in Missoula, Montana.
Advertisement