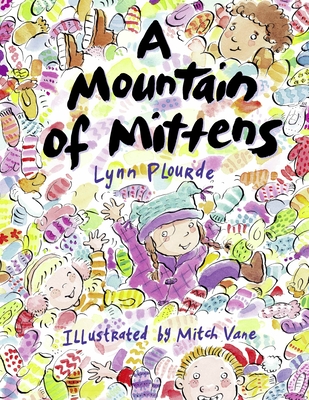 A Mountain of Mittens (Paperback)
Charlesbridge, 9781570914669, 32pp.
Publication Date: July 1, 2009
* Individual store prices may vary.
Description
Every morning, forgetful grade-schooler Molly's parents remind her to come home after school with her mittens, and every day, Molly forgets. Nothing works—not Velcro, not crochet chains, not even duct tape!

But Molly isn't alone. All the kids at school forget, and soon the mountain of mittens in the  lost-and-found has grown out of control. Can the kids and their teachers work together to retrieve their lost winter gear? Or will the mitten mountain take over the school?

WARNING: Lynn Plourde's story is so laugh-out-loud ludicrous that you might misplace your own mittens!
About the Author
Lynn Plourde is the author of several picture books, including TEACHER APPRECIATION DAY, SCHOOL PICTURE DAY, and SUMMER'S VACATION. Lynn lives in Winthrop, Maine.
Praise For A Mountain of Mittens…
Plourde takes an ordinary winter event and makes an amusing story out of it. As the kids climb aboard the school bus, all the parents yell the same thing: "Don't forget your mittens at school." But, of course, the children do forget. The mittens wind up in a pile in the lost-and-found box, and in the following days, the adults try to find ways to keep the mittens tethered to their children, with yarn, velcro, and duct tape all playing roles. But nothing works, and the hill of mittens grows into a mountain. Pretty soon, kids are getting stuck in the pile—and the teachers who are trying to help them do, too. It's the parents to the rescue, and everyone manages to get home. But the mittens stay put, to the teachers' dismay. Although the ending is a bit flat, readers will chuckle as they recognize what a problem mateless mittens can become. Vane's watercolor-and-ink drawings have a jaunty air as they up the ante, showing wild ways to connect kid and glove and illustrating the prodigious size of the ever-growing heap. 

—Booklist
or
Not Currently Available for Direct Purchase