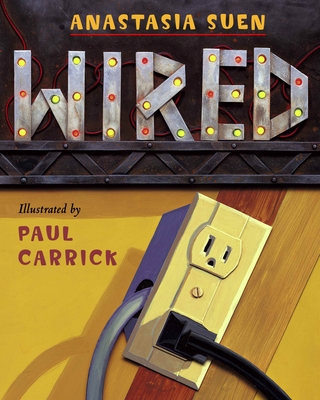 Wired (Hardcover)
Charlesbridge, 9781570915994, 32pp.
Publication Date: July 1, 2007
Other Editions of This Title:
Paperback (7/1/2007)
* Individual store prices may vary.
Description
Humming, thrumming, power's coming.

From the power plant to your house, electricity is on the move. In rhythmic text, Anastasia Suen breaks down the complex subject of electricity to its essential parts.

Paul Carrick's three-dimensional illustrations help shed light on the subject.
About the Author
Anastasia Suen is the author of dozens of books for young readers, including SUBWAY (Viking) and RED LIGHT, GREEN LIGHT (Harcourt). She lives in Plano, Texas.
Praise For Wired…
Detailed yet accessible text begins with "electrons on the move" and explains how electricity is generated at a power plant and travels across wires to brightly lit homes. Suen also covers how interior wiring, breakers, switches, and outlets work. Illustrated with multimedia artwork with a 3-D effect, the book concludes with electricity safety tips.
-Book Links November 1, 2014

Raising the awareness of any reader who's ever switched on a light or wondered what those wires above the street are, Suen traces the long "dance" of electrons from a (water-driven) generator to a home's plugs, lamps and computer screens. Linked by lines of poem -- "Humming, thrumming, / power's coming / in the wires / from big to small / to power it all" -- her commentary offers simple but specific descriptions of how, for instance, step-up and step-down transformers work, what ground wires and circuit breakers do and even what's behind those ubiquitous switch plates. With help from occasional discreet labels, Carrick's realistic, low-relief collages follow wires over transmission towers and wooden poles, down through electric meters and cutaway walls. Suen closes with a list of safety tips and, for children curious about topics she doesn't cover, such as difference between volts and amps, or AC and DC, a handful of print and online resources. Audiences who find Joanna Cole's Magic School Bus and the Electric Field Trip, illus by Bruce Degen (1997), too busy to absorb may come away from this more linear approach with a clearer idea of what powers their everyday infrastructure.
-Kirkus Reviews - June 15, 2007

This introduction to electricity traces the path of electrons from the power station to electronic devices used in the home. A series of spreads with a few paragraphs of text describes each stage along the way. This progression works well, covering the physical implements and machines as well as general scientific concepts. The important role of transformers, for example, emerges in a logical way, reinforcing the key concept that electricity is an energy that can be controlled and guided. Acrylic mixed-media illustrations are informative, with clear labels to identify specific components. The uncrowded layout and three-dimensional look are especially effective. Each spread leads neatly into the next one, so the visual flow is uninterrupted. Readers see wires reaching the electric meter, then a page turn shows that meter close up, while the subsequent spread reveals the inside wires moving out from the meter. A few descriptions are oversimplified, but a glossary fills in needed details. Joanna Cole's The Magic School Bus and the Electric Field Trip (Scholastic, 1997) and Barbara Seuling's Flick a Switch (Holiday House, 2003) cover more ground, and Molly Bang's My Light (Scholastic, 2004) is more visually dazzling, but this title succeeds with its carefully focused approach. By sticking consistently to the topic of how electricity reaches the home without trying to cover history, trivia, or more complex science, the fundamental information comes through in an appealing way that kids can fully understand.
-School Library Journal - July 1, 2007

In this picture book for elementary students, Suen covers the basics of how electricity moves from power plant to cozy, lamp-lit home. The text works on two levels. Each spread features short paragraphs that present definitions in clear language: "Electricity is electrons on the move." A few words, in larger print, appear on each page, and when read aloud create a bouncing rhyme that seems aimed at children younger than the audience for the science and the pictures. The mixed-media art illustrates the concepts with mixed success. Some spreads, such as one explaining how power is "stepped down" at a transformer, need more detail to help kids full envision what the words describe. Most successful are the scenes of long lines reaching across landscapes, demonstrating that power is generated far away and travels great distances before it is used. There aren't many titles that explain electricity for this age group; recommend this one with some of the other books in the appended reading list. A glossary and power safety tips conclude.
Booklist - August 1, 2007
or
Not Currently Available for Direct Purchase