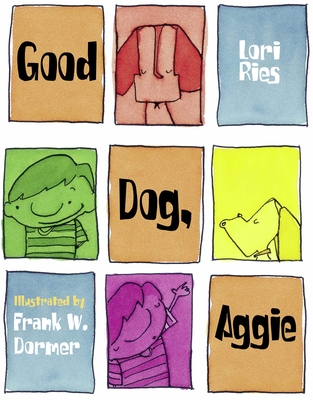 Good Dog, Aggie (Aggie and Ben) (Hardcover)
Charlesbridge, 9781570916458, 48pp.
Publication Date: February 1, 2009
* Individual store prices may vary.
Description
Aggie and Ben are back with another boy-and-his-dog adventure just right for early and beginning readers.  

In this sequel to Aggie and Ben, the best friends are back for more day-to-day fun. Young readers will laugh out loud at Aggie's irrepressible antics and Ben's determined attempts to train her. Three short chapters, just right for beginning readers, follow Aggie and Ben on their adventures in doggie training, obedience, and friendship.

Frank Dormer's spirited and expressive illustrations are as unrestrained as Aggie and when paired with Lori Ries' playful text it makes for an irresistible early chapter book that is sure to delight emerging and reluctant readers.
About the Author
Lori Ries was born in Syracuse, New York, the eldest of four children. She discovered a love for storytelling as a young child and wrote her first story when she was just ten years old. It was a short story called "Jo-Jo the Raccoon," based on a true story about a baby raccoon that Lori's grandfather found on the side of the road and brought home for his children to raise. Lori lives in Tigard, Oregon, with her husband and three children.
Praise For Good Dog, Aggie (Aggie and Ben)…
Chaos erupts in the canine classroom when rambunctious Aggie attends obedience training. When Aggie is expelled from dog school, Ben tries to independently teach his pet, but neighborhood distractions overwhelm the pooch. Active Aggie won't sit or stay until the boy finally pays heed to his blind neighbor's advice and substitutes playing fetch for rigid commands. Ben proves to be the responsible pet parent in the anticipated conclusion when he maturely announces,"You are not a bad dog. But you must learn." Slightly more complex in sentence structure and narrative than its predecessor (Aggie and Ben, 2006), this three-chapter story comically explores the budding friendship between a rowdy pet and her young owner. Dormer's exaggerated angular designs capture the frenzy in calculatedly disproportionate cartoons. Pen-and-ink and watercolors combine thin lines and bold colors to energize Aggie's antics. While undisciplined, Aggie is one lovable pup; with a slight turn of her large head and a flip of her lopsided ears, she demonstrates why dogs are known as children's best friends.

—Kirkus Reviews