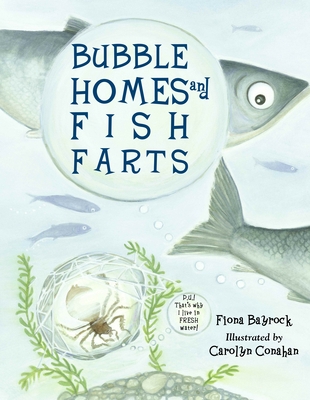 Bubble Homes and Fish FaRTs (Paperback)
Charlesbridge, 9781570916700, 48pp.
Publication Date: February 1, 2009
Other Editions of This Title:
Hardcover (2/1/2009)
Prebound (2/1/2009)
* Individual store prices may vary.
Description
Pop into a hidden world of underwater animal behavior with this charmingly illustrated introduction to sixteen bubble-blowing animals. 

Bubbles are for popping, fishing, finding food—and for sailing, playing, and shooting hoops! Who knew animals used bubbles for so many different things? Learn about how the water spider builds a bubble home underneath the water, how snapping shrimp use bubbles to talk to each other, or how dolphins play with bubbles as if it's a game. Whether they are riding, breathing, or making bubbles, one thing is for sure—animals use bubbles in amazing ways.
About the Author
Fiona Bayrock has always enjoyed playing with words, but was well into adulthood before discovering her passion for science. She has since written books for educational and specialty markets in Canada and the U.S., as well as 60+ articles, stories, and poems for children's magazines such as Highlights for Children, Odyssey, KNOW, and YES Magazine. Fiona lives in British Columbia, Canada.
Praise For Bubble Homes and Fish FaRTs…
Bayrock's love of "way cool science" bubbles over in this surprisingly substantial book.
How do animals use bubbles? For sailing, running, berthing, nesting--even playing (dolphins seem to blow bubbles just for fun.) Sixteen double-page spreads cover 16 wholly different ways that fish, insects, amphibians and mammals use bubbles. Did you know that one species of spider creates a bubble home to live in underwater? That the popping bubbles of a napping shrimp can be "so loud it gets in the way of U.S. Navy sonar"? That the water shrew can actually run across the surface of the water courtesy of the bubbles trapped between its hairy toes? Lively expository prose deftly combines straightforward facts (the scientific name of each animal), sound effects (the "fwap-fwap-fwap-fwap" of tree frogs creating foam) and kid-friendly comparisons (the gourami fish spitting eggs into its nest looks like it's playing basketball). Conahan's whimsical watercolor illustrations, complete with conversational bubbles, add humor and interest.
Three pages of additional facts and a combined glossary/index round out a volume that's sure to rise to the top.

—Kirkus Reviews