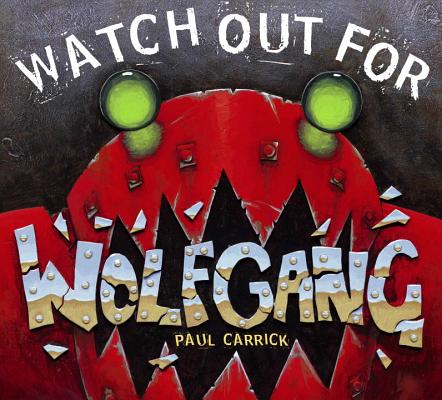 Watch Out for Wolfgang (Hardcover)
Charlesbridge, 9781570916892, 32pp.
Publication Date: February 1, 2009
* Individual store prices may vary.
Description
In a riff on the classic cautionary tale "The Three Little Pigs," Paul Carrick retells and imaginatively illustrates this story of three robot brothers. When Mother Robot finishes programming them, it's time to send them out into the world. But she warns them to be careful of Wolfgang the Recycler. If he catches them, he'll use their parts for his own ill-gotten gains.

Rod is a mama's robot and desperate for nurturing. Slick is vain and easily won over with a compliment. And Dudley is . . . well, a dud who likes mud. Can they protect themselves from the greedy Wolfgang?

The illustrations in WATCH OUT FOR WOLFGANG are made of shaped plastic, wires, bits of screen, and other recycled materials.
About the Author
Paul Carrick has been around the children's book circuit all his life, as the son of author Carol and illustrator Donald Carrick. A graduate of Rhode Island School of Design, he has illustrated several children's books, including THE POLAR BEARS ARE HUNGRY (Clarion) and MOTHERS ARE LIKE THAT (Clarion). He lives in Boston, Massachusetts.
Praise For Watch Out for Wolfgang…
Mother Robot has three sons. Rod is big and yellow with a clock in his stomach. He makes his mother proud. Slick is a blue creature on a wheel. Dudley is green, rusty, and odd. One day their mother sends them out into the world with enough resources to acquire their own factories, big and strong enough to keep Wolfgang the Recycler at a distance. He wants their parts for enhancing himself. Rod buys a factory and cleans it up. Slick builds a steel castle. Dudley orders 12 truckloads of mud and happily nestles down into the oozing pile. Wolfgang tricks Rod into opening the door and dismantles him on the spot. He uses Slick's vain streak to gain entrance to his castle and breaks him down for parts. Dudley invites him in, and Wolfgang becomes trapped. After he sinks, his parts start floating to the top. Dudley rebuilds his brothers from the parts and makes a car from Wolfgang's remains. The reunited family goes for drive at the end, but it's clear from the picture that not everyone is assembled as they were before. Illustrations are done in mixed media, mostly in a collage style, and have a clunky, metallic look to them. Boys will like this retelling of a children's classic.

—School Library Journal
or
Not Currently Available for Direct Purchase