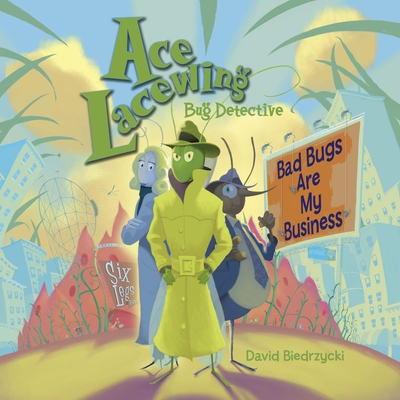 Ace Lacewing, Bug Detective (Paperback)
Bad Bugs Are My Business
Charlesbridge, 9781570916939, 44pp.
Publication Date: February 1, 2011
Other Editions of This Title:
Paperback (2/1/2012)
Hardcover (7/1/2010)
Hardcover (7/1/2009)
Prebound (2/1/2012)
* Individual store prices may vary.
Description
This buggy twist on the classic gumshoe PI story is packed with whodunit thrills!

When Scratch Murphy's flea bag full of dough goes missing, Ace Lacewing is on the case. With friends Xerces and Zito at his side, Ace searches Six Legs Park for clues. From the Termite Tower of Terror to Queenie Bee's Hive Rise Honey Stand, the place is crawling with suspects. Can they find the missing cash in time? Or will the thief get away scot-free?

For insect fans and mystery maniacs of all ages. Includes a scale map of Motham City.
About the Author
David Biedrzycki has been creating illustrations for book publishers, advertising agencies, magazines, and design firms since 1980. His art has graced the cover of KidSoft magazine, New England Aquarium billboards and children's software packaging, such as "The Amazon Trail" and "Odell Down Under." He is the author/illustrator of the Ace Lacewing, Bug Detective series as well as ME AND MY DRAGON and ME AND MY DRAGON: SCARED OF HALLOWEEN. He also illustrated THE BEETLE ALPHABET BOOK and DORY STORY. David lives in Medfield, Massachusetts.
Praise For Ace Lacewing, Bug Detective: Bad Bugs Are My Business…
Ace Lacewing is back to solve another mystery. Scratch Murphy, the owner of Six Legs Park, is knocked unconscious by a falling toolbox–presumably the property of a disgruntled carpenter ant–and wakes to find his flea bag empty and his money gone. Ace discovers that his client has a lot of enemies, including a fly-by-night roach in the banking business; Scratch's twin brother, Scritch; and a weevil with over-the-top parenting skills. Ace's blue-eyed gal Xerces and Police Sergeant Zito "The Mosquito" are with him every step of the way. When the solution hits Ace "like a flyswatter," a run for the money ensues through the Termite Tower of Terror, Anteater Falls, and House of Mirrors. Ace's first-person narration and snappy dialogue are true to the hard-boiled detective genre, as is the cast of characters. The illustrations, done in pencil and digitally colored, fairly glow. The many insect references ("Flypaper Awareness Week" and "Keep Your Antennae and Legs Inside Ride") in the colorful spreads are a true delight. Mystery fans and insect enthusiasts will enjoy a one-on-one reading with plenty of time to savor the clever wordplay and insect-related details. They will also want to find Ace's first adventure, Ace Lacewing, Bug Detective.

—School Library Journal