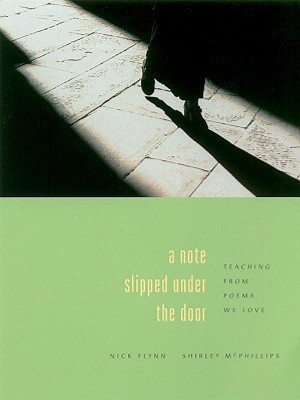 A Note Slipped Under the Door (Paperback)
Teaching from Poems We Love
Stenhouse Publishers, 9781571103208, 256pp.
Publication Date: January 1, 2000
* Individual store prices may vary.
Description
"WHATEVER SHIRLEY OR NICK TELL YOU-BELIEVE THEM."
- Naomi Shihab Nye

How do we read a poem? What can we teach from a poem we love? How can we name what poets do in order to inform our writing, our teaching?
In their staff development work with teachers, Nick Flynn and Shirley McPhillips have often encountered these and similar questions. This book invites preservice and inservice teachers, staff developers - anyone who wants to make a lasting place for poetry in their own and their students' lives - into many of these same primary through middle school classrooms for an up-close look at several thoughtful, rigorous, poetry inquiries.
Each chapter begins with a mentor poem as the centerpiece for discussion, followed by a short narrative of ways the authors view their world through that chapter's particular poetic "lens." The authors then walk the reader into a classroom writer's workshop where, through vignettes, conversations, and carefully designed mini-lessons, that chapter's key element of poetic practice is being studied over time.
Other aspects that will help teachers in designing and conducting inquiry around mentor poems include:mini-lessons that take students through an inquiry from launch to in-depth extensions;illustrations of student writing samples in the "try it" stages, successive drafts, and crafted poems;words, stories, and examples of best-loved poets that inspire and instruct us in our own thinking and teaching;appendixes that include various types of book lists, charts, conference transcripts, and additional poems.
A Note Slipped Under the Door will show how you might help your student writers let the poems they love teach them what they need to know, and build a writing life that includes finding and crafting their own.
About the Author
Nick Flynn has worked at a variety of jobs, including ship's captain, electrician, and as a case-worker with homeless adults. As poet-in-residence for six years at the Teachers College Reading and Writing Project at Columbia University, he taught writing to young people and their teachers in New York City Public Schools. His poetry and essays have appeared in the Paris Review, The Nation,and in several anthologies. Some Ether, a book of poems published by Graywolf Press, won a "Discovery"/The Nation Award, as well as the PEN/American Center's Joyce Osterweil Award. He lives in Provincetown, MA, and in Brooklyn, NY.
A former classroom teacher, Shirley McPhillips has also worked as a literacy staff developer, writing consultant, educational writer and poet. For several years she was affiliated with The Reading and Writing Project at Teachers College, Columbia University in New York City. Currently she is a member of the Writers Council of the National Writing Project.
In 2000, Shirley co-authored with prize-winning poet and memoirist Nick Flynn A Note Slipped Under the Door: Teaching from Poems We Love (Stenhouse), which focused on writing craft and mentor texts. Shirley's more recent professional book, Poem Central: Word Journeys with Readers and Writers, (Stenhouse, 2014) helps teachers bring poetry into their lives and the lives of their students through close reading and writing of poems.
Shirley serves as Poet Laureate for Choice Literacy online (choiceliteracy.com) where she publishes original poems and essays. Her poems have found homes in places such as the Sewanee Review, Journal of New Jersey Poets, Edison Literary Review, Poets Online, and in several anthologies.
In 2016, Shirley's new book of poems, Acrylic Angel of Fate (Finishing Line Press), made its debut. She is at work on another collection tentatively titled Mapping the Labyrinth.
When asked about the importance of ongoing professional development, Shirley says, "To devote oneself to growth and learning is probably as crucial a decision as one can make." She describes effective staff development as "the way we keep our minds open, our spirits creative. The way we come together with others to forge new paths of thinking."
In a 2015 radio interview with Tanya Baker of the National Writing Project, Shirley talks about her life in and with poetry, and her work with young readers and makers of poems.
or
Not Currently Available for Direct Purchase