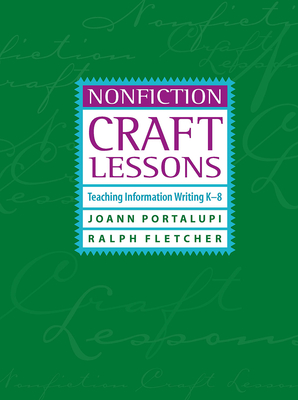 Nonfiction Craft Lessons
Teaching Information Writing K-8
Paperback

* Individual store prices may vary.
Description
Writing nonfiction represents a big step for most students. Most young writers are not intimidated by personal narrative, fiction, or even poetry, but when they try to put together a "teaching book," report, or persuasive essay, they often feel anxious and frustrated.
JoAnn Portalupi and Ralph Fletcher believe that young nonfiction writers supply plenty of passion, keen interest, and wonder. Teachers can provide concrete strategies to help students scaffold their ideas as they write in his challenging genre.
Like the authors' best-selling Craft Lessons: Teaching Writing K-8, this book is divided into sections for K-2, 3-4, and middle school (grades 5-8) students. These divisions reflect various differences between emerging, competent, and fluent writers. In each section you'll find a generous collection of craft lessons directed at the genre that's most appropriate for that particular age. In the K-2 section, for example, a number of craft lessons focus on the all-about or concept book. In the 3-4 section there are several lessons on biography. In the 5-8 section a series of lessons addresses expository writing. Throughout the book each of the 80 lessons is presented on a single page in an easy-to-read format.
Every lesson features three teaching guidelines:Discussion--A brief look at the reasons for teaching the particular element of craft specifically in a nonfiction context.How to Teach It--Concrete language showing exactly how a teacher might bring this craft element to students in writing conferences or a small-group setting.Resource Material--Specific book or text referred to in the craft lesson including trade books, or a piece of student writing in the Appendixes.
This book will help students breathe voice into lifeless "dump-truck" writing and improve their nonfiction writing by making it clearer, more authoritative, and more organized. Nonfiction Craft Lessons gives teachers a wealth of practical strategies to help students grow into strong writers as they explore and explain the world around them.
Be sure to look at the When Students Write videotapes too.

Stenhouse Publishers, 9781571103291, 160pp.
Publication Date: January 1, 2001
About the Author
JoAnn Portalupi likes to introduce herself as a mother, teacher, writer, and artist. Each of these roles informs the work she does in the field of teaching writing.
She began her career in education as a fourth-grade teacher in Epsom, New Hampshire. "I was bit by the writing bug my second year of teaching when I was lucky enough to attend the University of New Hampshire's first Institute on Teaching Writing where I met and worked with Tom Newkirk, Lucy Calkins, Donald Murray, and Donald Graves. In that summer I discovered a pedagogy that resonated with my own belief about teaching and learning: that a strong teacher-student relationship lies at the heart of both." Since then she has worked in education as a classroom teacher, a staff developer at Teachers College Writing Project, a university professor at the University of Alabama at Birmingham, and most recently as an independent consultant. JoAnn is also the co-author with her husband, Ralph Fletcher, of numerous professional books and videos.
Her four sons have given JoAnn plenty of opportunity to refine her thinking about teaching writing. "Raising school age boys gave me a panoramic view of teaching. Engaging as a parent at home continually challenges me to think about the responsibility of teaching another parent's child. Discovering up close the four distinct personalities in my own children is a constant reminder of the diversity of each and every learner."
After years of traveling to work with teachers, JoAnn prefers putting her time into two new endeavors that continue to inform her thinking about education. She currently serves on the Oyster River Cooperative School Board. "My experience as a board member allows me to work with a fine group of administrators, teachers, and staff in the exciting and complex task of building and maintaining an excellent school district."
Her newest classroom is her own artist's studio. "After years of wanting to learn to paint, I finally took myself seriously. I built a studio, found a teacher, and have been painting for the last seven years. Standing in front of a blank canvas reminds me of all the excitement and frustration of being a novice and has ushered in new insights about what it means to be a learner. Maybe these ideas will make their way into a book someday, but for now I'm just trying to keep my brushes wet."
or
Not Currently Available for Direct Purchase