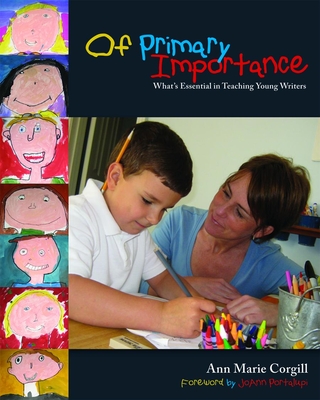 Of Primary Importance (Paperback)
What's Essential in Teaching Young Writers
Stenhouse Publishers, 9781571103741, 236pp.
Publication Date: October 16, 2008
* Individual store prices may vary.
Description
From the first chapter of Ann Marie Corgill's Of Primary Importance you experience the swirling energy, the sights, and the sounds of a primary classroom. "Step inside" she says, "and breathe the writing workshop air with me. Take a look at a primary classroom, and take a minute to watch and listen and see real learning, real writing in action." Throughout these pages, you'll see Ann Marie guiding her primary students into deep and meaningful explorations of a wide variety of fiction and nonfiction. Watch as her classroom community progresses into eager and independent writers speaking with clarity, voice, and an undeniable understanding of the power and purposes of putting pen, pencil, crayon, and paper to work!
Forming the heart of the book are detailed units of study on poetry, nonfiction, and fiction writing that provide a clear demonstration of the writing workshop process at work throughout a school year. You'll also find examples of favorite texts for teaching various craft components, ideas for classroom organization and where to purchase materials, suggestions for publishing student work, lists of professional resources and, most importantly, inspiring examples of what children who are empowered to write can and will write.
Of Primary Importance is not a how-to manual as much as it is a celebration of the idiosyncratic journey of teaching young children to write. If you are a grade-one through grade-three teacher struggling to get your students writing well, if you want to push your writing workshop to new dimensions, or if you are just plain skeptical that primary kids can write something beyond "I love my mom. I love my dog. The end," this book is for you. You will come away inspired, challenged, supported, and wiser in your classroom writing instruction.
About the Author
If it weren't for those scary numbers, Ann Marie Corgill wouldn't be a teacher today. "I wanted to be an architect," she says. "But I was afraid of the math classes." Now, in her fifteenth year of teaching, she can't imagine being in another profession.
"I love it that I can start over every year," Ann Marie says of her love of teaching. "The things I learned from the previous class help me improve my teaching for the next year -- I can rethink things, refine my practice, and look forward to a new group of students. "
Ann Marie is a 1994 graduate of the University of Alabama with a bachelor's degree in early childhood education. She received her master's degree from the University of Alabama at Birmingham, also in early childhood education. She is a National Board Certified Teacher and the 2007 recipient of the Donald H. Graves Writing Award. She has taught at Riverchase Elementary School in Hoover, Alabama and at the Manhattan New School in New York City, as well as schools in Birmingham, Alabama, and Bronxville, New York.
Ann Marie believes that the most beneficial professional development opportunities are those that are ongoing. "When I think of professional development, that could mean simply rereading a text that helped me with my teaching, returning to hear an expert I admire and always learn from, visiting colleagues to watch them teach -- and always focusing my energy on ONE part of the curriculum I want to improve," she says. "I believe that professional development is the key to improving our schools. We as teachers need the same things our students need: ongoing support, focused and specific studies, a 'less is more' philosophy, and multiple opportunities to practice what we've learned."
Ann Marie says that the process of writing her book, Of Primary Importance, was both "painful and dreadful" and "the most amazing way to learn about my students and my teaching. "I've never run a marathon," says Ann Marie, "but I would suspect finishing the book feels a lot like crossing the finish line."
She loves to paint, send email, read on the floor of the children's book sections of bookstores, have fun with friends and family, shop in New York City, and eat at restaurants with a great wine list, and she appreciates a good vanilla buttercream cupcake. "I don't like big dogs, talking on the phone, unloading the dishwasher, desserts with nuts, and saying goodbye."
Praise For Of Primary Importance: What's Essential in Teaching Young Writers…
"A piece of work that will have a tremendous impact on the field of literacy education" - Education Review