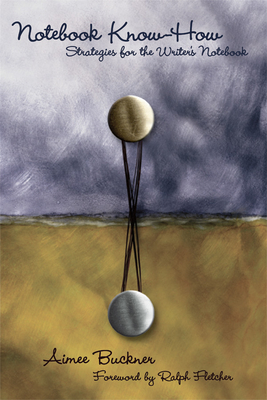 Notebook Know-How (Paperback)
Strategies for the Writer's Notebook
Stenhouse Publishers, 9781571104137, 152pp.
Publication Date: January 1, 2005
* Individual store prices may vary.
Description
A writer's notebook is an essential springboard for the pieces that will later be crafted in writers' workshop. It is here that students brainstorm topics, play with leads and endings, tweak a new revision strategy, or test out a genre for the first time.
In Notebook Know-How, Aimee Buckner provides the tools teachers need to make writers' notebooks an integral part of their writing programs. She also addresses many of the questions teachers ask when they start using notebooks with their students, including: How do I launch the notebook? What mini-lessons can be used throughout the year to help students become more skilled in keeping notebooks?How do I help students who are stuck in writing ruts with notebooks? How do I help students use their learning from notebooks for other writing? How do I organize notebooks so that the design is flexible, yet still allows students to access information easily?How can writers' notebooks help students become better readers? How do I assess notebooks?
This compact guide is packed with lessons, tips, and samples of student writing to help teachers make the most of writers' notebooks, without sacrificing time needed for the rest of the literacy curriculum. In fact, Notebook Know-How shows how smart and focused use of writers' notebooks enhances and deepens literacy learning in both reading and writing for students in grades 3–8.
About the Author
Aimee Buckner has been in education for more than twenty years. She thrives on the idea that teaching is about helping students develop intellectually, physically, and emotionally. The writer's notebook helps her carve out a place in the curriculum to allow students to truly be themselves and find their own voice. Aimee continues to consult both nationally and internationally as well as speak at state and national conventions. Aimee is a contributor to Choice Literacy and is the author of two other books with Stenhouse Publishers: Notebook Know-How: Strategies for the Writer's Notebook and Notebook Connections: Strategies for the Reader's Notebook.
Praise For Notebook Know-How: Strategies for the Writer's Notebook…
"The techniques are not simply prompts to direct student writing, but are student-centered approaches that allow for a deep investment of students in their own learning to write process." - Education Review

"An encouraging guide." - Library Bookwatch