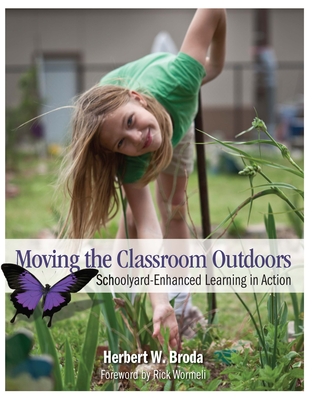 Moving the Classroom Outdoors (Paperback)
Schoolyard-Enhanced Learning in Action
Stenhouse Publishers, 9781571107916, 216pp.
Publication Date: May 24, 2011
* Individual store prices may vary.
Description
Since Herb Broda published Schoolyard-Enhanced Learning, his groundbreaking first book on outdoor learning, many schools across North America have embraced the benefits of "greening" their learning programs. Herb has visited dozens of these schools and nature centers, and he showcases the very best examples of schoolyard-enhanced learning in action in his new book Moving the Classroom Outdoors, complete with photos of a wide variety of outdoor learning environments.
Designed to provide teachers and administrators with a range of practical suggestions for making the schoolyard a varied and viable learning resource, Moving the Classroom Outdoors presents concrete examples of how urban, suburban, and rural schools have enhanced the school site as a teaching tool. Herb focuses on the practical and the specific, including ideas for seating, signage, planting considerations, teaching/meeting areas, outdoor classroom management, pathways, equipment storage, raised gardens, and more. The book also provides an outdoor activity sampler, information on incorporating technology into the outdoor learning experience, and a chapter on the unique concerns of urban schools.
         
Moving the Classroom Outdoors: Schoolyard-Enhanced Learning in Action is filled with examples of model schools, innovative ideas, and inspiring people.
About the Author
Herb is a professor emeritus of education in the Department of Curriculum and Instruction at Ashland University in Ohio. He teaches both graduate and undergraduate courses with an emphasis on middle school education, instructional methods, and outdoor/experiential education.
He received his bachelor's and master's degrees from Ohio State University and his doctorate degree in curriculum and instruction from Kent State University. His long career in teaching includes experiences as a sixth-grade teacher, resident outdoor education program teacher and co-director, conservation summit faculty at the National Wildlife Federation, and environmental education summer workshop series faculty at Kent State.
"A genuine enthusiasm both for teaching in general, and the discipline in particular, is what brings a classroom alive," says Herb. "Enthusiasm is infectious. It's hard to be around a person who is excited about a topic and not at least pause to give some thought to what is being said."
Herb's areas of specialty include the use of the outdoors as an instructional tool, resident outdoor education, middle school education, instructional planning, place-based education, environmental education, and the use of the schoolyard as an instructional tool.
"Professional development needs to be ongoing throughout a career, and should consider the career stages, as well as the perceived needs and interests of teachers. The implementation of new ideas requires the provision of learning options that consider the differing needs of teachers. It's critical that teachers be an active part of the staff development planning process."
As reflected in his books Schoolyard-Enhanced Learningand Moving the Classroom Outdoors, Herb has a real passion for using the outdoors as a teaching tool. "I enjoy helping teachers explore ways to step outside and use nature in their teaching."
Herb and his wife, Janet, live in Ohio. They have three adult children--Emily, Matthew, and Michael--and thoroughly enjoy their roles as grandparents.
or
Not Currently Available for Direct Purchase